Click on the play button to listen live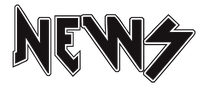 AMARANTHE RELEASE "INSATIABLE" NEW SINGLE
Swedish six-piece Amaranthe recently announced the release of their upcoming album The Catalyst live on stage after their bedazzling performance on Wacken's main stage.
Guitarist Olof Mörck issued the following statement:
"So at last it is official! This has been a long time in the making, and more effort went into this album than any previous Amaranthe record. You have already gotten a taste of what's to come on 'Damnation Flame', but as the most varied and eclectic Amaranthe album to date, expect the unexpected! We cover a lot of musical ground on The Catalyst,
but the core of what we are about creatively is completely intact. It will be immediately obvious that you are listening to Amaranthe, as much as it will be immediately obvious that this is both a leap forward as well as a step up.
Can't wait for all of you to hear what we have been cooking, as well as seeing us perform these pristine
new songs on the road SOON!"
U2 RELEASES NEW SONG "ATOMIC CITY" 
On the eve of the launch of its U2:UV residency at Las Vegas' extravagant new venue the Sphere at the Venetian, U2 has released the new song "Atomic City." An accompanying video, filmed on the Vegas Strip last week, is also out now.
The title nods to Las Vegas in the 1950s, when its proximity to the atomic bomb test city in the Nevada desert seemed exotic. The song itself is a straight-ahead rocker that would fit in on any of U2's post-2000s albums, and its the band's first new tune since "Your Song Saved My Life," which appeared on the Sing 2 soundtrack in 2021.
U2's most recent album was 2017's Songs of Experience.
"It's a love song to our audience …'where you are is where I'll be'," Bono says of the song, which was produced
by longtime collaborators Steve Lillywhite and Jacknife Lee.
Directed by Ben Kutchins, the "Atomic City" video was shot in the same area where U2 filmed its clip for "I Still Haven't Found What I'm Looking For" more than three decades ago. The video features drummer Larry Mullen Jr., who will not perform with the band during the residency as he recovers from a medical procedure. These are the band's first-ever shows without the drummer, who will be replaced by Bram van den Berg.
P.O.D. RELEASE "DROP" FEATURING LAMB OF GOD'S RANDY BLYTHE
Southern California hard rockers P.O.D. have released the official music video for their new single, "Drop".
The track, which features a guest appearance by LAMB OF GOD frontman Randy Blythe,
is taken from P.O.D.'s upcoming studio album, "Veritas"
'Drop' is another one-of-a-kind, unparalleled banger that sets this band apart from everyone else," says P.O.D. vocalist Sonny Sandoval. "When you hear it, you know it's P.O.D.!"
"Dude, it's the sickest thing ever," P.O.D.'s Marcos Curiel says of "Drop", which was inspired by the guitarist's longtime love of electronic music. "When that drop hits, everyone knows it," he adds.
"We needed to create a song in that way… P.O.D. style." 
DEPECHE MODE DEBUT VIDEO FOR "MY FAVOURITE STRANGER"
In a poignant exploration of identity and duality, Depeche Mode's suspenseful synth diversion "My Favourite Stranger" (from Memento Mori), co-written by Martin Gore and Richard Butler (Psychedelic Furs), paints a haunting tableau of an individual's relationship with an elusive other. This "perfect stranger" not only mirrors the protagonist's actions,
but also trespasses on their very essence…moving stealthily, mimicking speech, and eerily echoing footsteps.
This doppelgänger embodies the darker, perhaps suppressed facets of the psyche.
Through evocative imagery of stolen shadows and echoed conversations, the song explores themes
of self-recognition, confrontation, and the unsettling realization that our most intimate stranger might be
the reflection we see in the mirror.
BLINK-182 RELEASES MUSIC VIDEO FOR NEW SINGLE "ONE MORE TIME"
BLINK-182 has released the official Carlos Lopez Estrada-directed music video for the song "One More Time".
The track is taken from the band's new album, "One More Time…", which will arrive on October 20.
It marks the first album to feature the group's classic lineup of Mark Hoppus (bass, vocals),Tom DeLonge (guitar, vocals) and Travis Barker (drums) since 2011.
The trio recorded "One More Time..." in the midst of their blockbuster reunion tour, which sold out arenas, amphitheaters, and stadiums across the world. The album, produced by Barker, features 17 new songs that capture the band at the top of their game, layering in themes of tragedy, triumph, and most importantly, brotherhood.