Click on the play button to listen live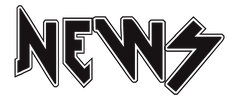 "There is a vast amount of indisputably real and depressingly negative occurrences happening across the globe, Currently, at the forefront of everyone's mind is the global COVID-19 pandemic. This is a very real concern, and proper precautions need to be taken by EVERYONE in order to protect those most at risk — the elderly, infirm, and immunocompromised. It is indeed a scary time, but in this hyper-connected age with its 24/7 never-ending news cycle of atrocity, outrage and lurid click-bait headlines (not to mention ill-informed lunatics running amok and spreading misinformation and panic on social media), it is all too easy to lose sight of the fact that life is still carrying on, and good things do in fact still happen."
Months before the COVID-19 outbreak occurred, I wrote 'Memento Mori' as a reminder to myself to not be consumed by the omnipresent electronic harbingers of doom that surround us — cellphones, computers, and television screens," That was D. Randall Blythe talking about "Memento Mori" the new song by LAMB OF GOD
Maik Weichert from HEAVEN SHALL BURN talks about the new video for "Übermacht". "For our conditions, it is an unusual video for an unusual HEAVEN SHALL BURN song and was lots of fun to shoot. 'Übermacht' is one of our favorite songs off the album and we are thrilled to hear what you think of it."
"I think that there was almost an unspoken desire to move forward, to not repeat ourselves, Of course, the players are the same, so the sounds can be the same in all the style or something like that. But as far as writing songs are concerned, I think most bands don't get the songs right. They talk about performance and hooks and stuff like that, but to me writing a song is much more than that. And we've always tried to write different songs. The danger is, of course, you become a parody of yourself if you try and copy yourself. And so, we've always tried to move on and change. It's a challenge." Declared ROGER GLOVER from DEEP PURPLE about "Whoosh!" the new album of the legendary band out on June 12. This, is "Throw My Bones" the new single by DEEP PURPLE
"'Desperado', just like 'Feverish', is a song about how a single emotion can overtake your entire being, and consume you like an almost sentient force. 'Desperado' is about what lies behind and beyond, the places you normally avoid. But they will always be there. 'Desperado' is shock rock and metal mayhem for those of us who long for a way out." Said the swedish band SOILWORK about the new single "Desperado"
"At some point through the songwriting process, I realized that the word 'human' appears in all the songs, and these are all somehow connected. Then I kind of realized that, 'Okay, this song is about the power of human imagination,' 'This song is about the power of human empathy,' 'This song is all about music descending on mankind,' 'This song is about human versus technology.' So, 'Okay, let's call this album 'Human'.' But that doesn't sound quite right, so the last song, it's all about the beauty of planet Earth. The last song is kind of like NIGHTWISH's love letter to planet Earth. So that's nature — human nature. That's how we came up with the title of the album."
Said TUOMAS HOLOPAINEN. This, is "Harvest" and "Ad Astra" by NIGHTWISH
 "It has been months since the final mixing of 'Titans Of Creation' and we are eager for fans to hear it. We feel that we put a lot into this record and at the end of the day it is a TESTAMENT record that stands on its own. We are very proud of 'Titans Of Creation'." CHUCK BILLY. This is "Children Of The Next Level" by TESTAMENT
"We are really proud of 'The Kingdom', It's as if all roads traveled over the last few years have gotten us to this point. We look forward to this cycle --old fans, new fans, likeminded people who are searching for their kingdom." Said Gavin Rossdale about the upcoming album. This, is the new song "Flowers On A Grave" by BUSH
"'Antisocialist' is a song written for everyone who just wants to stick their middle fingers up high in the air and scream at the top of their lungs. It's a song for the frustrated, the forgotten, the unappreciated and the downtrodden. It's a song for those who work hard and receive nothing in return. It's a song for those who dream hard and are laughed at. A song that says what we all feel from time to time and a song to just let loose to! Enjoy!"
Declared BEN BRUCE on the new single "Antisocialist" by ASKING ALEXANDRIA
This, is "Live Or Die" the new collaboration between APOCALYPTICA and SABATON'S singer JOAKIM BRODÉN 
"What the Dead Men Say is everything that is Trivium, On this album, one can hear the proper ingredients of past, present, and future Trivium. The Trivium sound is having everything the band does — on one album."
Said Matt Heafy about their new album. This, Is "Catastrophist" by TRIVIUM
"Mother is kind of connected to everything. So, in all that sense, it's really cool and it gives us a lot to pool from. And Maria's a mom; she was raised by her mom; everybody has a mom, in some sense. So, that whole concept is kind of what we were going for." Said Chris Howorth about the new album "Mother".
This, is "Hunting Grounds" and "As Above So Below" by IN THIS MOMENT
From their seventh album "Carnivore", This, is "Bum-Rush" by BODY COUNT
"'Forever' is a song about the dueling internal narrative while in the depths of a depressive episode,"On the one hand, love and support, on the other hand, thoughts of suicide, while also grappling with the follow-on effect it would have. I made a promise to myself to make it to my son's eighteenth birthday when he was three, and I intend to keep it. Hopefully by then I will have figured out how to properly cope with what is likely a lifelong battle with Bipolar II." says singer Joel Birch about the new single from the upcoming album "Everyone Loves You… Once You Leave Them"
by THE AMITY AFFLICTION
"It was thrilling to join AMARANTHE for a more extreme track and shooting a cutting-edge video for it! This is no cozy studio performance, but real ice-cold winds, sewages, cadavers and pouring rain — the reality we live in, the devastating legacy we leave to our future generations. Time to wake up, turn — and bang — some heads!" Said ANGELA GOSSOW about his colaboration in "DO OR DIE" with AMARANTHE
"The song is inspired by an acquaintance of mine who returned from Afghanistan only to have his relationship fall apart with his girl, She had messed around on him, then got paranoid about him messing around on her, and drove him crazy. We had a conversation on Valentine's Day and he said to me, 'They were just circling the drain.' … The phrase struck me. A few days later I incorporated it into the song I'd been working on"
Said ROBB FLYNN about the new single "CIRCLE THE DRAIN" by MACHINE HEAD.
ALLEN/OLZON  is the new proyect by RUSSEL ALLEN (SYMPHONY X) and ANETTE OLZON (ex NIGHTWISH, THE DARK ELEMENT). "So this is my secret project I've hinted about. To make an album with such a great and versatile singer as Russell Allen is an honor for me, and to have Magnus Karlsson making the songs and playing is also an honor." ANETTE commented on social media about  this new proyect.
As part of the promotion of his new album VIRIDIAN, from Italy, this, is TEMPERANCE in acoustic session 



YOU CAN ALSO PLAY  BOLLOCKS Rock & Metal Radio  IN