Click on the play button to listen live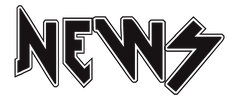 Lead guitarist of BULLET FOR MY VALENTINE Michael "Padge" Paget:
"I think it's the most ferocious side  that I've ever known, It's time for us to put out a really angry, heavy,
aggressive record. I just can't wait to grimace on stage!"
"I wanted to come out guns blazing, fucking middle fingers flying, and just go for the throat," agrees guitarist/vocalist Matt Tuck. "I think this is a far more aggressive, intense part of BULLET FOR MY VALENTINE. It's always been there. I've just never opened the floodgates on it. I want to take people's heads off in a metaphorical way.
"This is the beginning of BULLET 2.0. It signifies where we are right now. The music is fresh, it's aggressive, it's more visceral and passionate than it's ever been."
This, is "Rainbow Veins" by BULLET FOR MY VALENTINE
Dave Gahan states on his new album of covers with Soulsavers
"When I listen to other people's voices and songs—more importantly the way they sing them and interpret the words—
I feel at home," Gahan said. "I identify with it. It comforts me more than anything else. There's not one performer on the record who I haven't been moved by. I know we made something special, and I hope other people feel that and it takes them on a little kind of trip—especially people who love music and have for years."
This, is "Metal Heart" by CAT POWER on  Dave Gahan Soulsavers version
ENSLAVED guitarist and keyboardist Ivar Bjørnson referred to his new release:
"This EP is a manifestation of the vital state that ENSLAVED is currently going through. The idea of creating a transitory release between "Utgard" and what is to come logically led to the idea of an EP. Iver's idea of adding small introductions between the songs. two title songs gave this release more energy and depth. This EP is one of those that points to the past of our old records and also forward to a still unknown place that we seem to be heading to "
This, is "Ruun II - The Epitaph" by ENSLAVED
 MINISTRY frontman Al Jourgensen stated about the new LP's musical direction:
"Same old stuff. Just a progression of the MINISTRY sound that's been refined for the last 30 [or] 40 years. And I think we hit a good one this time. There's a couple that I wish I could have back, and there's a couple that I'm really gung-ho about. But this one's in the 'gung-ho' category. This one makes a lot of sense for the times that we're living in."
As for the lyrical themes covered on "Moral Hygiene", Jourgensen said: "We cover everything — from the actual pandemic to climate change to the political climate now. And I don't mean so much the politicians as much as the rise of fascist tendencies all over the world and in various countries. And a lot of life topics like that."
This, is "Disinformation" by MINISTRY
Tobias Forge on his new single "Hunter's Moon"
"The background to this song, specifically this song being associated with the film 'Halloween Kills', was that
Ryan Turek, who is one of the producers of the film, asked me if I was interested in writing a song for a film and specifically this film. I said that I already have a few songs that might work, and specifically one song that I think could work very well within the concepts of the film.
"The seed for that song that I had in mind was originally [just the] title ['Hunter's Moon']," he explained.
"Years ago, I was looking up the meaning of 'Harvest Moon', as in the Neil Young record, and within the context of 'Harvest Moon', which is essentially… It was, I guess, an article about farming and the moon cycles of farming.
And in September, there's 'Harvest Moon,' and in October, after Harvest Moon, around Halloween, it's 'Hunter's Moon.' And immediately upon seeing that, I thought that, well, if I were to ever write a song about Halloween, as you must do as a gothic rock band, I'm gonna use that title.
"When I knew that there was gonna be a song called 'Hunter's Moon' in a 'Halloween' film, it was pretty easy to come up with a theme that would simplify the lyrical content," Forge added. "So I wanted the lyrics to be sort of nostalgic, longing back but also semi-romantic and also have a slight sort of 'siblings love', 'friendship love' question mark.
So that is what I wrote.
"Sometimes when you write songs, especially if it's meant to be in a bigger, broader sort of album format, sometimes you can get locked into details, and you're writing too much into each song — it has to have too much of a purpose — whereas this was pretty simple; it was gonna go hand in hand with 'Halloween'."
This, is "Hunter's Moon" by GHOST
MASTODON drummer Brann Dailor stated about the "Hushed And Grim" cover:
"Essentially, to be brief, [the tree] is an afterlife mythology that when you pass away, your spirit goes into the heart of a tree and then experiences all the pillars of your in successions of the seasons that the tree experiences. That is the way you're able to say goodbye to the natural world and move on to the next dimension. You can see a green man in the center of the tree — the heart of the tree — and that is our good friend and manager Nick John, who passed away, unfortunately, a couple of years ago [after a battle with pancreatic cancer]. [Nick] has a lot to do with the inspiration of the album, 'Hushed And Grim'."
This, is "Teardrinker" by MASTODON
Anton Kabanen of BEAST IN BLACK comments on the single "One night In Tokio"
"What could be better than spending one night in Tokyo? That's right, nothing. If this hyper uplifting and max powered heavy metal hybrid of italo disco and eurobeat doesn't get you electrified and flying through the futuristic dreamscapes of mesmerizing and exciting Tokyo, then you're just not crazy, mad and insane enough for a journey where only
Beast In Black can take you.
If you're with us, you better buckle up for a manic ride on the savage Beast!"
Justin Hawkins of THE DARKNESS talks on his new single:
"'Jussy's Girl' is a song about unrequited desires of both the flesh and the heart. Although one could argue that hearts are made out of the same stuff as flesh. You know what I mean though. It's about an unspeakable longing, but sounds like a bloke walking around in his 501s on a sunny day. It's sad, but also carefree. Sonically, we were aiming for somewhere between DEF LEPPARD and Billy Ocean. Well, I was. There's a helicopter in it and an
awesome guitar solo. What more could you ask for?"
"'The Phalanx' was like an old muscle car sitting in the driveway with no engine," says bassist Paolo Gregoletto about the song's unique evolution and origin story. "It was a demo from 'Shogun' that had the middle section removed for another song ('Torn Between Scylla And Charybdis'), demoed again on 'Silence In The Snow' but ultimately scrapped, and now it has found its home on the new album. Once we knew the album was going in a more epic, proggy direction,
I immediately thought of the song and pitched the idea to the others. With a few minor changes to some chorus parts, a brand middle section, and the orchestrations from Ihsahn, 'The Phalanx' was reborn.
It's got a lot of new and old riffs and I think you should dig this if you liked 'Shogun'."
This, is "The Phalanx" by TRIVIUM
Written by Axl Rose and co-produced by Rose and Caram Costanzo, the track "Hard Skool", which had the working title "Jackie Chan", was originally recorded during GN'R's "Chinese Democracy" era but was eventually omitted from that album. Short clips of the song were later posted online and a full version was leaked in August 2019.
THE WARNING talks on his new single "Martirio"
'MARTIRIO' is a song about accepting that we all suffer, but that by putting ourselves before that suffering we become stronger. We are very proud to be able to share this message in our mother tongue and to be able to teach a different side of our music. We are proud to have a song in Spanish included in our new EP
Former NIGHTWISH singer Anette Olzon, who is promoting her upcoming solo album, "Strong", spoke to Finland's Tuonela Magazine about her experience getting bullied both in her personal life and by strangers on the Internet.
Asked what advice she has for other people who are getting bullied, Anette said:
"Well, I've been bullied in my childhood and, actually, not so many years ago in my adult life. I was a nurse student, and I came to a department to do my internship. And they bullied me. And I was actually at the same time in the local magazine — a big story about [my first solo album] 'Shine' or something; I don't remember — so I was kind of in the focus. And I think this was jealousy. You never know. I hadn't done anything. And, actually, they bullied me so hard [that] I cried every day [when] I went home. And I [was], like, 47 years old [at the time], and it was like being back in school. And I hadn't done anything. Like in school, it's nothing about you.
"All I can say is that [people who are getting bullied] should know that it's never about [them]," she continued. "It can be jealousy; it can be that [the bullies] have a boring life — I don't know. And haters on the Internet, too — they still hate on me. And they still write horrible things to me, like 'you suck.' I get those messages all the time, on my [Instagram]. So what I didn't do was that I stood up for myself in my childhood. It took me many years before I actually took that one girl who was the worst — I took her aside, [and] then I gave her a lot of beating, actually. And that's nothing I do, but that made it stop. And I'm not saying you should do that, but you really need to go to the principal, to the teachers, you have to go to the police. Here in Sweden, you can go to the police because it can be a felony to bully someone. If you're an adult and you're bullied in your workspace, your workplace, just quit. If you have a boss bullying you — that also happens — just quit. And the haters on the Internet, I mean, don't answer them. Don't give them your energy. Block them. I block every one. A single comment, it can be sexual, I block them. I block them instantly. I don't read [comments on] YouTube. If I [did] that, I would be crying every day. No, but it's horrible. And I think people that are bullying others, either as children or… it's even more horrible when you're an adult, because you should know better. But if you just look at Facebook, you see them, it's like… they can be my age and bullying children. So it's horrible, yeah.
But you have to go to someone and you have to not just let it be, because they will not quit."
This, is "Strong" by ANETTE OLZON
BLACK STONE CHERRY on covering TRACY CHAPMAN
"Tracy Chapman's voice and songs are absolutely timeless. We have always been fans of her music, especially
'Give Me One Reason,'" state the group. "Chris has always sounded so great singing this song, so we decided to record a quick version in the studio. We would have never imagined the positive feedback we received from something we thought was just a fun version of an already great song! We hope y'all dig it!"
BRIAN MOLKO discussed the making of the new album and explained how it was finished in early 2020
before the pandemic struck.
"We were basically ready to go on tour: the album was already finished and we spent 2019 in our home studio working on it," he said. "We'd sort of decided already that 'Beautiful James' would be the first single, so we had a lot of confidence. We had a lot of get-up-and-go, and then everything that happened, happened,
so everything is sort of delayed by about two years now.
"I know it was frustrating for the fans. It was certainly very frustrating for us as well, the interminable wait to put out new music, but at least it was there. We knew we had it."
This, is "Beautiful James" by PLACEBO
 CHVRCHES  speaks on covering "Cry Little Sister" by THE LOST BOYS
"We were so excited to work on this project as we are big fans of everyone involved. "Cinema — horror in particular — has always been a big part of Chvrches behind the scenes. We have talked about covering 'Cry Little Sister'
for years and this seemed like the perfect moment to do it."
 Jeff Walker of CARCASS on his new album TORN ARTERIES
It's very clean, white, which we've never done before, It doesn't look evil, or typically death metal, but I like how clean it is; almost like a coffee table book." This new album presents images, lyrics, and sounds that so distinctly scream CARCASS, but ferry us into a new era of production, songwriting, and art all together.
"I think as our seventh album, it does stand out from the others both sonically and stylistically," says Walker. "You can definitely tell that it's CARCASS; when you drop that needle on the vinyl, when you hear that guitar tone, you can tell it's Bill Steer, but each album is always a product of its time."
This, is "The Scythe's Remorseless Swing" by CARCASS
John Cooper of SKILLET comments on his new album
"'Dominion' is about the celebration of freedom, a liberation from fear — to be who we want to be, say what we want to say, believe what we want to believe, In some ways, it's a reminder of the God-given rights that we were born with. It's time to regain some sort of control over our lives and not be a slave to fear. I hope this record is going to make people feel empowered, inspired, uplifted and want to rock their faces off!"
This, is "Surviving The Game" by SKILLET
TWELVE FOOT NINJA and TATIANA SHMAYLUK on the single "Over And Out"
Regarding the choice of Tatiana to be featured on the track and appear in the video as well (her first collaboration outside Jinjer, BTW), lead singer Kin comments, "We wanted someone who could represent the lyric 'the devil in my blood' – both the darkness and the light. Tatiana embodies this perfectly so asking her to feature on it was a no brainer."
Tatiana adds, "When the Twelve Foot Ninja guys asked me to feature on one of their new tracks, I immediately said yes without even hearing it! The song and video were a lot of fun and very different from anything I've done with JINJER … it's a great pleasure to be an honorary member of the Ninja clan now!"
Speaking on the lyrics, Kin explains, "The song is an ode to the complicated relationship we have with our own mortality and how death can seem like the arms of a lover beckoning us to an early demise. The French first coined the phrase l'appel du vide which is the feeling of wondering what it would be like to jump in front of a truck or to jump off a cliff. It translates into English as the 'call of the void'. The phenomenon is actually a positive affirmation
that by not answering the call you unequivocally choose life."
Lauri Ylönen of THE RASMUS on his new single with APOCALYPTICA
"'Venomous Moon' is about isolation and being separated from the world, but I wrote it before the virus came along.
I must have caught a glimpse of the future, which then added a whole new layer of melancholy to the song."
MASTODON will release its new album, "Hushed And Grim", on October 29. The official Lorenzo Diego Carrera-directed music video for the disc's first single, "Pushing The Tides", can be seen below.
"We're very excited for you all to hear our new track 'Shatter', It's one of our personal favorites and we're pretty sure it'll be one of yours. It's an absolute sledgehammer of a track with riffs for days. Let the head banging commence!"
This, is "Shatter" by BULLET FOR MY VALENTINE
Jacoby Shaddix on his new single "Kill The Noise"
"It's easy to get caught up in some of that static inside your mind — we all tangle with that demon. For us,
'Kill The Noise' brings some straight-up heavy music catharsis, a reminder to find that
moment of peace from the noise."