Click on the play button to listen live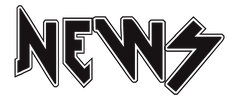 MY CHEMICAL ROMANCE RELEASES FIRST NEW SONG SINCE 2014,
'THE FOUNDATIONS OF DECAY'
MY CHEMICAL ROMANCE has surprise-released a new song called "The Foundations Of Decay". The band's first new music since 2014 was made available ahead of MY CHEMICAL ROMANCE's U.K. tour later this month.
"See the man who stands upon the hill," frontman Gerard Way sings in the track. "He dreams of all the battles won.
But fate had left scars upon his face, with all the damage they have done."
BEHEMOTH ANNOUNCES 12th STUDIO ALBUM 'OPVS AGAINST NATVRAM' AND SINGLE "OV MY HERCULEAN EXILE"
Polish extreme metallers BEHEMOTH will release their 12th studio album, "Opvs Contra Natvram", on September 16.
"The album title means going against the current," Nergal states. "It's the negative of the values and morals and ethics that I stand against. I've seriously been wrestling with destructive tendencies in pop culture — cancel culture, social media, and tools which I feel are very dangerous weapons in the hands of people who are not competent to judge others. That's something which I find very destructive and disturbing — and extremely limiting coming from an artists' perspective. This is my middle finger to that. There's a song on the record called 'Neo-Spartacvs'. Spartacus was one of the most iconic rebels in history who went against the most powerful empire of all time. In the end, it's me screaming, 'I Am Spartacus, and so are you!' I want to spark that flame of rebellion. If something seems wrong then stand up to it!"
FIVE FINGER DEATH PUNCH REVEALS 'AFTERLIFE'
ALBUM DETAILS, AND DROPS 'IOU' SINGLE
FIVE FINGER DEATH PUNCH has set an August 19 release date for its new album, "AfterLife". 
"'AfterLife' was hands down my favorite record to make," says FIVE FINGER DEATH PUNCH guitarist Zoltan Bathory. "It is our ninth album, so at this point we have legions of loyal fans and our signature sound is more than established.
It became its own island, our ground zero we operate from and we can always come back to. So when we started this record, there was an excitement of impending musical adventures. We knew we could step away as far as we wanted to; there was a freedom of truly 'anything goes.' This resulted in an album that is way more diverse than our previous ones while it feels more unified, because there is a framework of overarching stories in Ivan's [Moody, vocals] lyrics and interconnecting musical motifs between songs. It was not planned as a concept album, but we were so hyper-focused on painting a complete picture, it somehow feels like one...
We are very proud of it and are just as impatient as the fans waiting for the release. Can't wait to share it."
THERION PREMIERES "LITANY OF THE FALLEN"
THERION will release the album "Leviathan II" in 2022.
The group has presented one of the songs of this next work, "Litany Of The Fallen"
THERION frontman Cristofer Johnsson comments: "'Litany Of The Fallen' is a song that could have been in any of the three parts of the Leviathan trilogy. It's a song that ties them all together."
SOILWORK ANNOUNCES NEW ALBUM 'ÖVERGIVENHETEN'
Sweden's melodic death metal veterans SOILWORK will release their first studio album in three years, "Övergivenheten" SOILWORK frontman Björn Strid comments:
"The title track of this album just might be the pinnacle of this band's musical journey — it sums up everything that we've ever been about and the sometimes risky musical venture that this band embarked on some 20 years ago.
To me, this song is as close to the heart as it gets."
LIONS AT THE GATE RECRUITS JINJER's TATIANA SHMAYLUK FOR
'FIND MY WAY'
Cristian Machado commented: "With 'Find My Way', we tried to break all the formulaic rules on this one. Pushed the boundaries, took it to extremes. In the end, we realized how rewarding it was fitting intensely contrasting musical elements into one track. And it is a killer heavy track that also offers a beautifully haunting melody.
"From the onset, it seemed perfect for Tatiana's voice. The fact that she wound up on the track is mind-blowing. Her voice is absolutely stunning and it is a huge honor having her on.
"Lyrically, the song walks the line between fear, surrender, and the will to overcome. At the time of writing the album,
I felt pinned by so many things gone wrong in my life. I remember I just held on to hope and faith long enough till I found a place of safe surrender. A place where I could slowly lift the weight off, finally be untethered. It's a familiar theme that resonates throughout the whole album — the will to overcome,
the power to see the beauty in a world that is unforgiving."
BLACK LABEL SOCIETY HAS SHARED NEW SINGLE
  "YOU MADE ME WANT TO LIVE"
BLACK LABEL SOCIETY frontman Zakk Wylde commented: "BLACK LABEL SOCIETY's new video for 'You Made Me Want To Live' is so good it gave me temporary relief from my excruciating jock itch."
GERMAN INDUSTRIAL METALLERS RAMMSTEIN HAVE RELEASED 
NEW SINGLE, "ANGST".
As usual with them, the video, mostly in black and white, is a visual wonder in which we can see armed cheerleaders, masked drummers and Till Lindemann tied up on a stretcher. Years pass, but his obsessions remain.
THE BLACK KEYS DROP SOULFUL SINGLE 'IT AIN'T OVER' 
According to the band, "It Ain't Over," was born from a series of drum loops and patterns created by drummer
Patrick Carney. "Pat used to be self-deprecating, I don't know why," said Auerbach of his bandmate's drumming prowess. "But now he just seems so much more comfortable being himself behind the drums.
It's age or, I don't know, a lot of therapy."
NOTHING MORE WAKE UP TO REALITY WITH PULSING NEW SINGLE
'TIRED OF WINNING'
Singer Jonny Hawkins says of the track, "We find ourselves in the same position humanity has found itself over and over again… at the end of a series of self made problems. When we wake up to this, we realize that we are our own worst enemy, yet we focus so much of our energy on externalizing our problems.
This song is a bird's eye view of human nature."
"This may sound a bit lofty, but when I sing this song I feel as if the entire universe is coursing through my veins. I get goosebumps because I feel in line with something I can't quite describe… like an old familiar spirit shows up."
KORN SHARES MUSIC VIDEO FOR 'WORST IS ON ITS WAY'
KORN vocalist Jonathan Davis told Metal Hammer magazine about the track: "Right now everything is going good, but always in the back of my head I'm just waiting for that next bad thing to happen. I thought it was an amazing way to end the record because it's all about me battling the darkness and coming out on top, but life is a never-ending loop and there's always more bullshit ahead."
LIAM GALLAGHER RELEASE NEW VIDEO FOR 'BETTER DAYS'
The song is the latest to be taken from the former Oasis frontman's upcoming third solo album 'C'mon You Know', which is set for release on May 27 via Warner.
Gallagher has now released 'Better Days' – described by the singer as "the sound of the summer" and featuring
Yeah Yeah Yeahs guitarist Nick Zinner – and its accompanying video. The clip sees Gallagher and his live band performing on the roof of Manchester's Midland Hotel 
TOM MEIGHAN (ex-Kasabian) WITH A NEW SINGLE, "LET IT RIDE"
Tom Meighan shared "Let It Ride", another new single after leaving Kasabian last year. The song follows "Would You Mind", released in October and "Movin' On", appeared in March. The former frontman said that he decided to release the song for free download due to the "amazing answer" that his teaser for the single had
LENA SCISSORHANDS Feat. DEATH DEALER UNION RELEASE "BORDERLINES"
"My first song in collaboration with Death Dealer Union… It didn't just help me stay busy and creative in the times of a big global depression but also worked as therapy in the times of need. I had fun collaborating with new musicians! Please enjoy 'Borderlines.'" – Lena Scissorhands
"With all the amazing and talented bands of the last decade, we wanted to stand apart by capturing some of the foundational aspects of Metal and yet weave a strong thread of modern female fronted Nu-Metal but with no rules!"
– CC McKenna
ARCHITECTS WITH ANTHEMIC NEW SONG 'WHEN WE WERE YOUNG'
After their stellar 2021 offering For Those That Wish to Exist, the U.K. metalcore outfit are serving up a strong, triumphant slab of aggression with their new song "When We Were Young."
While new album details have yet to be revealed, this fist-to-the-sky anthem would be a solid start if indeed it is included on a forthcoming full-length. Buoyed by a spiraling and ever-present guitar line, the song features off-to-the-races verses before pulling back for the reflective but anthemic chorus.
"When we were young / We thought we'd have the whole world figured out / Now all we do is speak in tongues / We play a losing game, only now we hear the shouts, fading out / We flew into the sun," belts Sam Carter in the chorus of the song that largely centers on losing that appreciation for living life in the moment.
EDITORS HAVE SHARED THEIR NEW SINGLE 'HEART ATTACK'
Also confirmed the addition of composer and producer Blanck Mass to their line-up as a full member.
Blanck Mass, real name Benjamin John Power (also of Fuck Buttons), previously worked with the band on their sixth album 'Violence', which arrived in March 2018.
"Having worked with the band for coming up to five years now, joining Editors seemed more like a natural progression than a decision that had to be made," Power said in a statement. "We know that we work well together, are on a similar page creatively, and are all very close friends.
DUTCH SINGER FLOOR JANSEN RELEASED
A NEW SOLO SINGLE, "FIRE"
Jansen is best known as the frontwoman in the multi-million selling and internationally successful symphonic metal band NIGHTWISH. As part of the band, Jansen has landed two number one albums in Finland, and Top Five albums in Austria, France, Germany, Greece, Hungary, the Netherlands, Norway, Sweden and Switzerland.
Less than two months ago, the 41-year-old Dutch-born singer, who made her live debut with NIGHTWISH nearly a decade ago, stated about the musical direction of "Fire": "It's a pop song, so it's not metal, it's not rock, but it's definitely me." Jansen went on to explain that the track will not necessarily be representative of all the new solo music she has been working on in recent months. "I guess it's more of a mash-up [of styles] actually," she said, referring to her upcoming collection of solo material, "though it's not so extreme as in genres, like all of a sudden it becomes…
Here's a metal song and here's a rock song and this is more poppy… I mean, pop music — the word of it — [it's short for] popular music, and it kind of describes a lot, and within that it falls. I can only say that it's not metal and it's not rock, but it will have its influences and it will have a part of the sound. It can't even be so that the first song is how everything else will sound like because, yeah, if you know NIGHTWISH and also for us, it's always so hard to pick just one song that's gonna be like the kick-off of an album but it can never really represent everything. 
LIAM GALLAGHER'S STOMPING NEW SINGLE "C'MON YOU KNOW"
Liam Gallagher previously described the song as "the sound of the summer"
The song serves as the title track from the former Oasis frontman's third solo album, which is out on May 27 via Warner. He's already previewed the record with its lead single 'Everything's Electric'.
TOOL'S FIRST VIDEO IN 15 YEARS, "OPIATE²"
"Opiate²" is a reimagined and extended version of TOOL's 1992 single "Opiate", with both the song and video marking the 30th anniversary of the EP of the same name's release.
Housed in a 46-page art book with behind-the-scenes and making-of photos, the "Opiate²" Blu-ray also includes interviews and insights from special guests. Visual artist Dominic Hailstone ("Alien: Covenant", "The Eel") worked with TOOL guitarist Adam Jones on the 10-plus minute film. The clip continues TOOL's knack for merging the aural and visual worlds, creating an all-encompassing experience for the listener that has been a hallmark of the outfit since their inception. Hailstone and Jones also collaborated on the filmed pieces featured on the current "Fear Inoculum" tour.
MACHINE GUN KELLY RELEASES "MAYBE" COLLABORATION WITH
BRING ME THE HORIZON
After teaming up with Bring Me the Horizon's Oli Sykes earlier this month at Emo Nite in Los Angeles, Machine Gun Kelly has officially released "Maybe," his collaboration with the members of Bring Me the Horizon.
Both acts know a little something about blurring the genre lines, but this latest pairing definitely falls more in the lane of MGK's pop-punk leaning material. That said, Sykes drops in a few deathcore-styled screams to go along with his
clean-singing moments for good measure.
BASTARDANE, HAS JUST RELEASED HIS DEBUT ALBUM,
"IS THIS RAGE?"
The new band featuring drummer Castor Hetfield, the son of METALLICA frontman James Hetfield.
 In addition to the 21-year-old Castor, the Savannah, Georgia-based hard rock trio includes Jake Dallas on vocals/bass and Ethan Sirotzki on guitar. The group formed in 2019 from a collection of college students who met through jamming in basements, backyards, and anywhere that was available. Their brand of entertainment fuses fast high-gain riffs and power chord grooves with heavy feedback and clean, dissonant chord progressions.
APOCALYPTICA'S NEW SINGLE 'I'll GET THROUGH IT'
FEAT. BLACK SABBATH'S GEEZER BUTLER
Finnish cello rock quartet APOCALYPTICA has once again partnered up with some of the biggest names in rock music to deliver their new single "I'll Get Through It". The song, written for the band by American award-winning songwriter Diane Warren, features Franky Perez — guest vocalist in APOCALYPTICA's 2015 record "Shadowmaker" — as well as Geezer Butler of BLACK SABBATH on bass guitar. 
"Franky and I were visiting my friend, Diane Warren, at her studio," comments Geezer. "She played us this song, saying that she thought it would work well with Franky's voice. He gave it a try on the spot. We loved it. Franky then suggested sending it to APOCALYPTICA. They loved it, and the rest is history."