Click on the play button to listen live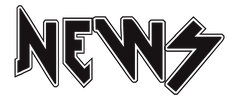 Pär Sundström  from SABATON  on his version of "Defence Of Moscow" :
"May 9 is celebrated as V-Day in Russia, the day to commemorate the victory over the Nazis in WW2. This year we participate in the memory of this event by releasing a song dedicated to the brave men who fought
in the battle of Moscow.
"This track was originally written in Russian by our friend Radio Tapok. It's a very strong song and we thought it made sense that SABATON should give it a try to make a honorable cover of this song.
"We love to surprise everyone, and this is a great surprise."
DAN AUERBACH  on his new single "Going Down South"  by THE BLACK KEYS :
"That was one of R.L. Burnside's hits! We strayed a little from the original on our version with the falsetto and percussion, but we liked how it sounded in that moment. It's become one of my favorites on the album."
From the upcoming album "God Is Partying". This, is "I'm in Heaven"  by ANDREW W.K.
RISE AGAINST comments on his new single "The Numbers"
 "'The Numbers' has given our collective another opportunity not only to work with a band we've looked to for inspiration since their early records, but also a chance to create the kind of strong visual content that aims to inspire and educate.
"Beyond simply showcasing global protest movements, this video is to serve as a reminder that we are all living in a golden age of resistance and need to use our privileges to commit ourselves to wholeheartedly pulling the rope in the opposite direction. Or, to put it more bluntly, don't be like your parents' generation. Give a fuck and prove it."
 SHIRLEY MANSON  from GARBAGE  comments on the inspiration she took on a trip to Chile
for the new single "No Gods, No Masters":
"That was like a slap in the face," Manson  said, adding that the comment reminded her of efforts in the United States to take down monuments to the Confederacy.
"All these people, they have more value than a monument to slave traders, but they don't have more value in the consciousness of society, and I think it's devilish and obscene, and I want power to be dismantled, and a society re-imagined," she said. "So, this song is about re-imagining our society for the future, for our children, and not making the same mistakes over and over again and allowing greed to corrupt our thinking."
PETE LOEFFLER  from CHEVELLE  comments on his latest album NIRATIAS :
"I love the idea of the cosmos and I love Carl Sagan and Elon Musk and Neil deGrasse Tyson and all these people that look beyond and look to the future. Getting off this planet is part of that future if we can do it. It's funny when you started to delve into it how difficult that really is. How are you gonna deal with radiation out in a spaceship for nine months or longer than that? It's fascinating. It just made its way into the music."
This, is "Mars Simula" by CHEVELLE
Inspired by 1856 poem "Demain, dès l'aube"  by famous French writer Victor Hugo
This, is "Victor"  by CHARLOTTE WESSELS
COURTNEY LAPLANTE  from SPIRITBOX  on his new single "Circle With Me" :
 "This song was written in the studio as a last-minute addition, one of the many reasons we are so grateful to no longer be exclusively working remotely. It captures the spectrum of emotions I've been feeling lately about my music.
From the anxiety I feel about messing up to a confidence meant to protect me from self-doubt. Visually, we wanted to present the viewer with the image of us that we miss the most: us performing on stage, with nothing to hide behind: instruments, some lights, and beautiful camera movement."
GUS G  comments on his new single "Exosphere":
"When the pandemic hit in early 2020, all world touring plans for FIREWIND were canceled. I found myself stuck at home for a whole year and not knowing what the future will bring. I slowly started putting down new riffs and ideas on my computer and before I knew it, I already gathered enough material for a new album. With a new reality in front of me, I started developing the new solo project and this time I decided to let my guitar be the voice, instead of having a singer or special guests. This led me to creating a bunch of new instrumental songs. 'Exosphere' was one of the first ideas I put together. I went through many different versions and arrangements before I settled for the final one. The last addition to the song was incorporating some lower registered riffs, after I got my hands on a seven-string guitar for the first time last summer. The goal was to add some new elements to my music while maintaining my sound and style that I've been known for. I'm really happy with the end results and I hope you enjoy the new music.
Stay tuned for more to come in the near future!"
DAN AUERBACH  and PATRICK CARNEY  from THE BLACK KEYS  on his new single "Crawling Kingsnake"  :
"Kingsnake" is a cover of the 1920s Delta blues song, "Crawling King Snake." It was famously covered by John Lee Hooker in 1949, who reimagined Big Joe Williams' country-blues version from 1941.
"I first heard [John Lee] Hooker's version in high school," guitarist-singer Dan Auerbach said in a statement. "My uncle Tim would have given me that record. But our version is definitely Junior Kimbrough's take on it. It's almost a disco riff!"
"We fell into this drum intro; it's kind of accidental," said drummer Patrick Carney. "The ultimate goal was to highlight the interplay between the guitars. My role with Eric [Deaton] was to create a deeper groove."
"We made this record to honor the Mississippi hill country blues tradition that influenced us starting out," Auerbach said. "These songs are still as important to us today as they were the first day Pat and I started playing together and picked up our instruments. It was a very inspiring session with Pat and me along with Kenny Brown and Eric Deaton
in a circle, playing these songs. It felt so natural."
Dave Grohl  on the making of MIDNIGHT MEDICINE  by FOO FIGHTERS :
"We're lucky in that everybody in the band has diverse influences and everybody loves different kinds of music, but I honestly think we're capable of doing almost anything, So if we put our minds to it, we can kind of chameleon and turn into a death metal band, or we could be like THE CARPENTERS. So we just have to come together and make the decision, like, 'All right, which way do we wanna go? Which way are we gonna turn the wheel?'
And this time we did it to make this party record."
This, is "Chasing Birds" new single by the FOO FIGHTERS
Chino Moreno from DEFTONES on his new single "Ceremony" :
 "That was one of the first songs that we wrote. But a lot of the stuff kind of comes from jamming. So 'Ceremony' was one of those ones where someone was just playing something, and then everybody just kind of picks up their instrument, like, Oh,' [and] starts reacting to each other, and then it just starts to build.
"I feel like I really connected with the song," he continued. "Lyrically, that song is pretty dark. I kind of tether with the true meaning of that song, 'cause it's really, really, really bad. It's not good. That's a hard one to talk about. But as far as the music and the whole vibe, the whole song, to me, I think that it's a special one on this record, for sure."
Mike Hranica  from THE DEVIL WEARS PRADA  comments about his new single "Termination" :
I learned during the COVID-19 pandemic to imagine how a virus can seriously compromise our lives. 'Termination' makes mention of that and the greed that so often comes when humans fend only for themselves or when lying to protect reputation. I didn't want to remake any part of the lyrical imaginings of the first EP, and the transformation mentioned in 'Termination' is a part of the new territory I hoped to create for 'ZII'."
ANDREA FERRO from LACUNA COIL on the release of "Live From The Apocalypse" :
"On one hand, it felt awkward to play for a huge empty room, But on the other hand, it felt great to finally reconnect with our fans at home and with the people working behind the scenes. A lot of people enjoyed the show — it was definitely a one-off event loaded with a lot of emotions and feelings. 'Live From The Apocalypse' is an opportunity to offer a new release to our fans while the COVID-19 crisis is still a real thing, affecting them and us. The live album represents a unique moment in our career (and life) that will be forever remembered as that one time when
we literally 'rose from the Apocalypse.'"
This, is "Bad Things Live From The Apocalypse" by LACUNA COIL
MATT SINNER  from PRIMAL FEAR  and TARJA TURUNEN  comments on their new single "I Will Be Gone" :
"There were three famous vocalists on our final wish list. That it was Tarja who got involved in this song is a matter of pure joy for all of us. Working together on the song and video was totally relaxed and professional — a great experience also because Tarja's and Ralf's [Scheepers] voices go together incredibly well. Now, we can expand the 'Metal Commando' saga with a unique chapter. We're all really proud of this single."
Turunen adds: "I was very happy to receive the invitation to take part in PRIMAL FEAR's beautiful song 'I Will Be Gone'. We started our careers nearly at the same time many years ago, and finally got a chance to work together. I love the song and personally it helped me to stay connected and rock again, even if at the studio this time. I really hope that people will like this collaboration and that it will bring them joy especially during these difficult times
we are living through at the moment."
Davey Havok  and Jade Puget  from AFI  on his new single "Dulcería"  and co-writting with BILLY CORGAN:
"'Dulcería' suggests if you spend too much time in the candy store you may end up stuck to the floor," 
"Billy and I have a great creative connection when we're writing together," adds guitarist Jade Puget. "It was inspiring to work with such a talented and legendary songwriter and 'Dulcería' is a testament to that."
SHIRLEY MANSON  from GARBAGE on his new album NO GODS NO MASTERS :
"This is our seventh record, the significant numerology of which affected the DNA of its content: the seven virtues, the seven sorrows, and the seven deadly sins, It was our way of trying to make sense of how fucking nuts the world is and the astounding chaos we find ourselves in. It's the record we felt that we had to make at this time."
This, is "The Men Who Rule the World" new single by GARBAGE
 Daniel Löble from HELLOWEEN comments on the reunion of the legendary band:
"This record is the coronation of the 'Pumpkins United' journey. I have always been fascinated by the different character traits and facets of HELLOWEEN's history. For example, the legendary voices of Michi, Andi and Kai. To enjoy them now together on one record, under one flag, is the ultimate HELLOWEEN experience."
This, is "Skyfall" new single by HELLOWEEN
ICE-T  from BODY COUNT on "The Hate Is Real" :
 "One day, I heard Jim Jones from [American hip-hop group] DIPSET say, 'Love is fake, but the hate is real.' I said, 'That's a song, because I believe when people say they love you, that could be a figure of speech.' It's, like, 'Yo, man, I love this dude.' But when someone hates you, they really hate you. Hate is fuckin' real. Whether it's racial hate, religious hate, whatever it is, it divides us. I feel like we're dealing with all kinds of really hateful shit
and we just need to address it."
Tomi Koivusaari  from AMORPHIS on recording a live album :
"Helsinki Ice Hall, what can I say... the very same venue where we used to see bands like Deep Purple, Iron Maiden, Metallica and many many more back in the 80's when we were kids, I'm sure we all dreamed about playing there someday. In our hometown Helsinki, where it all started with Amorphis 30 years ago. So I'd say we had a special feeling at that gig, the last one of the tour in Finland for that year.
"I guess this recording is a very honest picture of us playing live, nothing is fixed afterwards, except mightily mixed and mastered of course. When I listened to it a while ago, I realised how much I miss playing live. And yet we have no idea when it will be possible next, in this crazy situation with Covid and all... So, stay healthy, take care and shine on you all, see you hopefully soon on tour. We will."
This, is "Daughter Of Hate" live in Helsinki by AMORPHIS
ESA HOLOPAINEN on his new solo single "Storm" :
"Storm" is out now and it is the first release from the Silver Lake by Esa Holopainen album, available on May 28th via Nuclear Blast, hope you all enjoy it as much as I do.
"Storm" itself is a catchy and emotional song where Håkan did an incredible work. I am really honored that I got him on board and this song is a good proof that he is still one of the top vocalists. Shine on friends!"
ROYAL BLOOD  comments on his new single "Limbo" :
"It is without a doubt the most ambitious and wildest we have allowed ourselves to be and we can't wait to invite you this far down the rabbit hole with us,"
CALEB SHOMO from BEARTOOTH describes his upcoming album :
"The easiest way I've been trying to explain this record to people without giving too much away is if 'Disease' was AC/DC, this record is BLACK SABBATH. It's a lot more influenced in dark stoner rock, heavy power groove. Obviously, there's still a lot of fast [stuff] and some punk rock and all that, but I've really been exploring with the stoner metal side of guitars and guitar tones and doing different tunings and lots of fuzz and chaos and layering
the fuck out of my guitar tracks.
This, is "Devastation"  by BEARTOOTH
"'The Past Is Dead' was one of the first songs written for the album. The video is meant to depict the beginning of the journey to the deepest and darkest parts of my mind, which was the fuel used to make 'Below'."
NUCLEAR BLAST comments on MAX CAVALERA's new band GO AHEAD AND DIE :
 "For such a heavy, brutal and pissed-off record, GO AHEAD AND DIE will leave any metal fan with a smile on their face. With riffs the size of boulders and a genuine 'fuck off' attitude that speaks about today's horrors, this album will without a doubt leave a mark in metal and we are happy to be part of the journey."
This, is "Truckload Full Of Bodies" new single by MAX CAVALERA'S GO AHEAD AND DIE