Click on the play button to listen live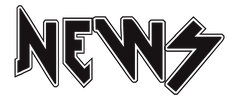 Johannes Eckerström talks about the new AVATAR's album HUNTER GATHERER: "There is no joking around with this, and it pulls us back into reality. It deals more with darkness, sadness, detachment, alienation and the anxiety of thinking of the world at large. It's all these things that don't necessarily fit into the 'let's write this love letter to heavy metal and share our inside joke that we call Jonas The King.'"
This, is "Silence In The Age Of Apes" new single by AVATAR
"We have a lot of demos that we still have to work out and to finish. But we wanted to have a few extra songs, and this is one of them, to play at the tour we were supposed to be doing, beside the festivals. But everything is postponed now [due to the coronavirus pandemic], of course.
But nevertheless, we decided to release it now because we felt like it's maybe a good time. Everybody is at home and we need something new to look forward to." 
It's Sharon Den Adel about the release of the new song "ENTERTAIN YOU" by WITHIN TEMPTATION
TAYLOR MOMSEN talks about the new album and single by THE PRETTY RECKLESS: "In a lot of ways, this new album feels like a rebirth and our first single, 'Death By Rock and Roll,' represents that salvation that my favorite music brings me,and this song is about living life the way you want, and now that belongs to everyone who listens."
"Tatiana wrote 'Noah' from the point of view of what if he did not succeed in perpetuating Life on Earth? Looks like we might find out sooner than we think!. Times are scarier, tougher and stranger than ever. Our/your livelihood and everything we know and cherish are on the verge being swept away by a storm like nothing we've faced before. Will we have our own modern-day Ark? Will we manage to jump on board in time or has it already set sail? What will be left over after it's all said and done? These questions are torturing all of us right now and the future is disturbingly uncertain. But we will survive and will get through this, like we did during so many dark times before. Together. Strong and revitalized with a much better understanding of what we are."
It's Eugene Abdukhanov from JINJER talking about his new song "NOAH"
"One thing that has come from this crazy time is it's stripped away the illusion of control — from all of us. Proof that we really don't have any when it comes down to it. A big new theme in the new music so far is disillusionment. Growing up and realizing life can be so hard, nobody's gonna come rescue you, and fairy tales aren't real — BUT, standing up and saying I'll take the truth rather than live in denial. Rising up, through the ashes of death and pain and everything just rising up even though it hurts and taking it to move forward. No more lies. The bitter truth is all that impossibly hard stuff. And I'm taking it. Choosing to live."  It's AMY LEE on the current situation of humanity and the release of "WASTED ON YOU"  the first new material in 9 years by EVANESCENCE
"'New Colossal Hate' came out of our very first writing session in Maine. Mark, our producer Josh Wilbur and I were at a super cool studio in South Windham called Halo. An absolutely beautiful spot run by some of the best people I've ever met. I'm pretty sure 'New Colossal Hate' grew from a few different demos I had. You know, like parts of car. However, as it started to take shape, it quickly became my favorite song on the record. Please enjoy this banger of a tune. It holds a very special place in my heart." It's Willie Adler talking about "NEW COLOSSAL HATE"
the new song by LAMB OF GOD
"I have this thing where I'm too close to my art. We (HIGHLY SUSPECT) are, for as long as I can remember, difficult to really collaborate with, not because I'm a snob but maybe more so out of fear — that somehow all of the hard work I put in will get bent into a shape I don't find aesthetically pleasing. We're getting better at letting other people into our tight-knit community. When you find someone with as much passion as you, sometimes it's worth giving it a shot. This time that man was Tony Cavalero. Said Johnny Stevens about his collaboration with Tony Cavalero
 on the video for the new song "THESE DAYS" by HIGHLY SUSPECT
"Even if the whole world is in lockdown, we still feel the need to stay connected with our fans all around the world. That's why from now on we'll be constantly releasing new playthrough videos, for all instruments. The first one is an excerpt from the magnificent "Requiem In D Minor" by Wolfgang Amadeus Mozart, performed by Veronica Bordacchini and Francesco Ferrini. States FLESHGOD APOCALYPSE
 "'Melancholia' is a dark (and maybe the saddest) song on Grim, yet it is also very powerful. In my opinion, it also contains the most beautiful guitar solo of the album. 'Melancholia' is the name of a blue orb which provides magical powers to the protagonist Luna. In the song, Luna sees into her past through the orb and learns what has happened to her. She lives through her longings and loneliness once again."
It's Heidi Parviainen talking about "MELANCHOLIA" the new song by DARK SARAH
Jeremy McKinnon on "MIND READER" A Day To Remember's new song: "This song was one of my personal favorites off the new album from the day it was written. I wrote it with the incredibly talented Mike Green. Fun fact, it was the first song I've ever sent the guys in the band that was unanimously loved. This song was written to be a lighthearted take on people in relationships expecting their partners to read their minds." 
"We all have a rebellious side and 'Down To Hell' is a big ol', rebellious rock 'n' roll song reminiscent of 'From Death To Destiny'. From the minute the song starts to the very last note, the energy doesn't stop! It's a headbanger from start to finish and I cannot wait to play this one live!"
Declared BEN BRUCE on the new single "DOWN TO HELL" by ASKING ALEXANDRIA
What's better than girls rockin'?... from Seattle Washington, inspired by the 70's rock this, is THUNDERPUSSY covering the legendary "Somebody To Love" by JEFFERSON AIRPLANE
As part of the COVID-19 quarantine, BILLIE JOE ARMSTRONG decided to entertain his fans with a series of covers including the participation of SUSANNA HOFFS from THE BANGLES. "I've been writing a lot of music, and I had all these melodies in my head, so I wrote, like, six songs since this has all been happening," he said. "I don't know when I can meet Mike and Tré," but I told them to make sure they were quarantined for now, and then I hope that in the future we can go back to the studio." Said the vocalist of GREEN DAY 
Riley McShane from ALLEGAEON: "We're very excited to release our rendition of 'Roundabout' by Yes from their 1971 album Fragile. We have always been huge fans of progressive rock and all the genres that were birthed from that era of music. In this cover we try to showcase not only those influences, but also how we as individual musicians have been impacted by the music of yesteryear and how that impact has helped us to develop our own
styles of playing." This, is the legendary "Roundabout" in ALLEGAEON version. 



YOU CAN ALSO PLAY  BOLLOCKS Rock & Metal Radio  IN