Click on the play button to listen live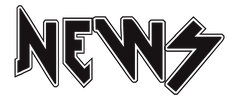 ALAN WHITE  of YES  comments on his new single "The Ice Bridge":
"I'm extremely proud to be a part of this music and believe the video graphics are outstanding. A collaboration of many talents coming together to produce 'The Ice Bridge'. I hope our fans/audiences will appreciate the creativity put forward. I'm pleased to share it with the world and hope everyone will enjoy the ride."
The "Regia" triplet THE WARNING  has released 'Evolve'
Their new single which is released through LAVA / Republic Records and produced by David Bendeth
(Paramore, Bring Me The Horizon, Breaking Benjamin)
"We wrote 'Evolve'  about humanity's dangerous obsession with evolution," the band said. And how sometimes that evolution leads us to slowly leave our humanity behind. Is this dehumanizing evolution right or wrong? "Says the band.
BULLET FOR MY VALENTINE  guitarist Michael "Padge" Paget  said of the new album:
"I think it's the most ferocious side of Bullet For My Valentine  that I've ever known. It's time for us to put out a really angry, heavy, aggressive record. I just can't wait to grimace onstage!"
Vocalist and lead guitarist Matt Tuck  spoke on the album saying:
"This is the beginning of Bullet 2.0.It signifies where we are right now. The music is fresh, it's aggressive, it's more visceral and passionate than it's ever been."
"I wanted to come out guns blazing, fucking middle fingers flying, and just go for the throat. I think this is a far more aggressive, intense part of Bullet For My Valentine. It's always been there. I've just never opened the floodgates on it.
I want to take people's heads off in a metaphorical way."
This, is "Parasite"  by BULLET FOR MY VALENTINE
On the occasion of the publication of The Undiscovered Lotus, an album released only in vinyl LP format for "Record Store Day 2021"  (anniversary that fell on July 17, 2021), SOEN  released three unreleased tracks to the public,
recorded on the recording sessions for Lotus, his fourth album.
This, is "EMDR"  by SOEN
SEETHER  frontman Shaun Morgan  comments on this new release:
"We are really excited to release 'The Purgatory'  EP as a companion to our latest single, 'Wasteland'. I'm especially proud of how the alternate version of the track turned out and really happy that people will finally hear it!"
This, is "Feast Or Famine"  new single by SEETHER
Bruce Dickinson  of IRON MAIDEN  comments on the video for the new single "The Writing On The Wall" :
"I had a pretty clear idea of the concept to accompany the song and when I met Mark and Andrew, on Zoom, it quickly became clear we were all very much on the same wavelength, and this was reinforced with the addition of Nicos and his young BlinkInk team. Our weekly team Zoom meetings were then usually both highly creative and a lot of fun!
"I'm very proud of the way the video turned out. It's more like a mini-film, really. I knew it was going to work out as soon as Mark brought my treatment to life with his incredible storyboards. I thought we could make something very special together. I think we did and hope our fans will agree. In fact, it's pretty much created by MAIDEN fans!!"
FOO FIGHTERS  frontman Dave Grohl  explained how the "You Should Be Dancing"  cover came about:
"We've been going down to our studio every day and filming things and recording things, and this one day we had our list of things we were supposed to do and it said, 'Record a cover song for Jo.' And while we were having this conversation, somebody said, 'Hey, have you seen that BEE GEES  documentary?' And I was like the last person on earth — the only person that hadn't seen it! So I was, like, 'Why don't we just do a BEE GEES  song?'
And someone was just, like, 'Okay… how do you wanna do it?!' And I said: 'Well, let's do it like the BEE GEES.'"
He continued: "We started recording the instrumental track, and then I thought, 'Okay, well, I'm gonna go out and sing it…' and let me tell you, I have never, ever in my life sung like that, but it was the easiest song I have ever sung in my entire life! I sang the song, and it was like six minutes and I was done.
I should have been singing like this for the last 25 years!'
Yngwie Malmsteen  states on his new single '(Si Vis Pacem) Parabellum' :
"'(Si Vis Pacem) Parabellum'  is a piece of great difficulty. Octave arpeggios it is very satisfying to apply this extremely challenging violin technique to my own composition. Starting in B harmonic minor, it transposes to D natural major and then into F# Phrygian. It is a natural flow within the chord progression of relative keys and modes. It was very challenging and exciting to perform this piece and I hope you enjoy it as much as I do."
Andrew W.K.  speaks about the video for"Everybody Sins":
When we started working on the video for "Everybody Sins,"  the director and I were scheming and straining over some of the choreography and camera moves. Now, I do realize some people will say life's too short to scheme and strain like this. And others will say life's too short NOT to scheme and strain. Still, other people will say both these approaches are incorrect. And what do I say? Everything I just said in the video for "Everybody Sins."
 Paolo Gregoletto  of TRIVIUM  on his new single "In The Court Of The Dragon"
"We started putting together the riffs for what would become 'In The Court Of The Dragon'  last year with no touring on the horizon, about the song's earliest origins during the COVID-19 pandemic and lockdown. "We decided to use the uncertainty to our advantage and to create without any of the limitations and commitments that would normally
be eating away at our time in the jam room."
About the deeper meaning, he continues, "The title of the song came from a short story by Robert W. Chambers. The story is filled with dread and uncertainty, and that felt fitting for the times we've all been living in for the last year.
Rather than a direct re-telling, we decided to go a different route and build our own narrative
around the music that we were creating."
He finishes, "Similar to some of our past songs and albums, this song began with lyrics rooted in mythology. But unlike the past, we decided to create our own myth to fit the music. Being free to create the story and write the music without a deadline, due to a once-in-a-lifetime event, really led to one of the most rewarding writing and recording experiences
we have ever had. We hope it lives up to your expectations."
Speaking on his band's newly announced album, ICE NINE KILLS  frontman and driving creative force
Spencer Charnas  shared:
"True to horror franchise tradition, there is always a sequel… 'Welcome To Horrorwood'  follows in the bloody footsteps of its predecessor, paying tribute to 13 more of the most gruesome tales to ever grace the silver screen. In this latest INK offering, the last album and video series is portrayed as a work of fiction. The new story line thrusts the band into a brutal 'real world' slaying. The only traces of the crime are 13 songs left behind by the suspected killer…
"We can't wait to share this next chapter with you, and to welcome you to the sinister state of mind that will soon be known the world over as, 'Horrorwood'.
"The first stop on the tour is 1980s New York City's 'greed is good' scene, where a certain hot shot investment banker has a rather violent dirty secret…"
This, is "Hip To Be Scared"  featuring JACOBY SHADDYX  by ICE NINE KILLS
Circus Of Rock  mastermind Mirka Rantanen  on his new album COME ONE, COME ALL:
"My musical influences in making Come One, Come All  come from a mix of artists I've been exposed to over the years. My own bands which I've been involved in and, of course, my own musical idols. In music, I love more than anything classic melodic hard rock and that shows on this album. I wanted to make the kind of music I could stand behind completely. The intention was just to have fun with musicians I admire and have everybody perform great songs," 
This, is "In Times Of Despair"  ft. Elize Ryd  of Amaranthe
Steve 'n' Seagulls,  who has delighted listeners with his bluegrass and kantric covers, has released
the Seagulls' Nest  video series over the spring and early summer. .
In the last episode of the first season of the series, the guest is Tarja Turunen,  who performed bluegrass arrangements with the band from Turunen's  own song Until My Last Breath  and from the song Sleeping Sun  by her former band Nightwish . In addition to this, the singer will be challenged to an exciting rowing competition, the Karelian pie crumpling competition and the Saunamajuri heavy quiz. 
This, is "Ordinary World"  by DURAN DURAN, in LORD OF THE LOST  version
KAT VON D  says about the new single "I am Nothing" :
"I wrote the song for all of those who've ever felt not good enough, and Lord knows I've been there. I wrote it during a time where I was lost in someone, but more importantly lost myself along the way, and I think that's something many can relate to. [It's about] wanting to be good enough for someone so badly, and somehow not measuring up. I believe there's strength in vulnerability, but this song begs the listener of how much one's willingness
to endure the things they can't have."
 Steffen Kummerer  from OBSCURA  comments on his new single "Solaris" :
"'Solaris'  turned out to become one of the band's shortest and utmost direct compositions featuring all trademarks lots of attitudes and a melodic approach. Flattering guitar work pushing drums and swinging bass lines combined with a relentless vocal performance and ultrasonic leads became easily a highlight of 'A Valediction'."
WITHIN TEMPTATION  singer Sharon Den Adel  on his new song "Shed My Skin" :
'Shed My Skin' revolves around dealing with inevitable changes in life, It is about becoming the person we are meant to be — even if that means losing people we love, but have grown apart from. Real growth begins where comfort zones end and that's exactly what the song is all about: If we don't change, we don't grow.
If we don't grow, we aren't really living."
ANETTE OLZON  comments his new single "Parasite" :
'Parasite'  is a song about those who create disaster in this world with their lies, their schemes, their greed and hate. Hiding their intentions behind a respectable facade. Living in a world of a bit of chaos with a pandemic, crazy politics, violence, social media behavior and people venting their opinions upon others all the time is the foundation behind the idea of the lyrics for the album. Musically, I wanted a much heavier album, yet with strong melodies and took my inspiration from bands I like such as DIMMU BORGIR  and IN FLAMES."
POWERWOLF  guitarist Matthew Greywolf  says about "Call Of The Wild":
"With 'Call Of The Wild', we are opening a new, exciting chapter in the history of POWERWOLF. The album sounds unmistakably like POWERWOLF  and is so much more at the same time: Besides new territory like the Celtic instrumentation in 'Blood For Blood (Faoladh)'  or the ballad like 'Alive Or Undead', we have raised all our trademarks to a new level. Until now, we never sounded so powerful and wild - in the truest sense of the word.
We can't wait to finally share this beast of an album with you all!"
This, is "Dancing With The Dead"  by POWERWOLF
MAKE THEM SUFFER  vocalist Sean Harmanis  on his new single "Contraband" :
"'Contraband' came together centered around one of the riffs in the song that we'd aptly named the 'floppy fingers' riff". "We'd actually had this [riff] in the bank since way back in 2016. As the song came together, we decided that it was a great opportunity to include Make Them Suffer's first-ever guest feature, and we couldn't have picked anyone better than Courtney! She was a joy to work with and showed such a great enthusiasm toward the song and her parts."
AURI, the project featuring NIGHTWISH  mainman/keyboardist TUOMAS HOLOPAINEN,  his wife, popular Finnish singer JOHANA KURKELA and TROY DONOCKLEY  have a new single "Pearl Diving"
TROY DONOCKLEY  states about "Pearl Diving":  "No lifebelts needed. Where is the sea and where is the boat but more importantly, what is 'The Pearl'? How deep do we dive to find it? How was it made and how old is it? Shapeshifters and the whispering seagulls of the 12-note scale will tell us. Aweigh anchor, Away!"
From the founder of TRISTANIA  and SIRENIA, MORTEN VELAND  this, is "Death Turns a Blind Eye"  new single by MORTEMIA  with the collaboration of the Mexican singer and violinist MARCELA BOVIO