Click on the play button to listen live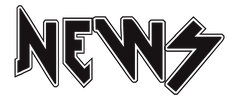 ALISSA WHITE-GLUZ  and FALK MARIA SCHLEGER  on the collaboration for
"Demons Are A Girl's Best Friend"  by POWERWOLF
White-Gluz  comments: "I enjoyed putting a woman's spin on 'Demons Are A Girl's Best Friend', altering the lyrics to fit a strong message of female empowerment and delivering them with a mighty roar! Thanks to POWERWOLF  for being open to having their song reconstructed like this!"
Schlegel  adds: "It was a pleasure to work and perform together with Alissa  for the very first time on our joint video shoot for 'Demons Are A Girl's Best Friend'. Immediately, there was a great energetic atmosphere on set! Alissa is such a wonderful artist and interacting with her during this shoot as well as re-interpreting this video together
was an amazing experience."
Björn 'Speed' Strid  of THE NIGHT FLIGHT ORCHESTRA on his new song "Burn For Me"
"Enjoy sipping cocktails in the sun while shaking your hips with our new single 'Burn For Me'
With this sensational song we serve you a music video that will put a big smile on your face. "
NERGAL of BEHEMOTH  comments on his new single :
'Shadows Ov Ea Cast Upon Golgotha'  is the final piece of the puzzle to complete the 'I Loved You At Your Darkest' cycle. An amazing album campaign for BEHEMOTH, and this is its grand sendoff! Once again, we collaborated with Grupa 13 and created a very cinematic script and vision.
"There are numerous references linking this new video and our previous videos for 'God=Dog'  and other 'I Loved You At Your Darkest'  videos," he continues. "It's all high-end, unseen footage and has a cool and intriguing
story running through it.
The Swedes Therion released the official video for 'Eye of Algol', a new promotional single from their latest studio album 'Leviathan' released in January this year through Nuclear Blast.
The topic talks about the demon-star Algol ("al-gul" means demon in Arabic), a star that in turn is made up of three different stars that has an ominous connotation in astrology and has also been referenced in writings. by HP Lovecraft.
The video combines stellar moments of the band's leading singers Rosalía Sairem and Thomas Vikström, with mythical creatures, blood, fire and sword fights that advance from grounds that were established with the previous singles, "Tuonela" and "Die Wellen. der Zeit ".
Martin Doherty  of CHVRCHES  on his collaboration with ROBERT SMITH  for the single "How Not To Drown"
"I don't remember where I was, but I remember how I felt. Depressed, anxious, isolated and as usual, engaging in the only thing that could bring me enough equilibrium to get through the day and play the show. That is to say, I was hiding in the most remote corner of some venue making music on my laptop," 
"On this particular day, I made a demo called 'Piano Drum Ting'. Now, it's called 'How Not To Drown' and it's a collaboration between my band and my all-time music hero, Robert Smith."
 VOLBEAT  comments on his new music :
As the weather begins to warm and the days get longer in many parts of the world, we wanted to share two songs that we wrote and recorded over these long, difficult fifteen months that have the vibe and feel of summer.
"We're beyond thankful that even during a lockdown, our good friends Doug, Ray  and Mia Maja  were able to put the pedal to the metal with us on 'Wait A Minute My Girl', and we're absolutely thrilled that Stine Bramsen, who we've known and admired for a long time, was willing to lend her incredible talents to 'Dagen Før'.
"We hope you enjoy this double-barreled blast of summer tunes as much as we enjoyed creating them, and we can't wait for you to hear what else we have in store for you. The fall always brings the thunder and lightning…"
AMORPHIS  guitarist Esa Holopainen  has shared a new video for a new song, titled "Alkusointu," from his Silver Lake solo project. That track features Vesa-Matti Loiri and it appears on Silver Lake's debut self-titled album.
HOWARD JONES  of LIGHT THE TORCH  comments on his new single "Let Me Fall Apart" :
"I loved this song as soon as I heard it. The music stuck in my head, so I knew I had to work on it right from the beginning of writing the new album. Francesco wrote a huge chorus so I did my best to match that energy. 
We are thrilled for this to finally see the light of day."
Members of Deftones, Killswitch Engage, In Flames and more deliver heavy metal cover of Björk's 'Hyperballad'
For the latest instalment of his Two Minutes To Late Night  series, YouTuber Jordan Olds  has recruited members of Deftones, Killswitch Engage  and In Flames  to cover Björk's 'Hyperballad'.
'Hyperballad' first appeared on Björk's second album, 'Post', which she released in the early months of 1996 to critical acclaim. The track has been a favourite of fellow pop acts to cover, with names like Robyn, the Dirty Projectors, Yeah Yeah Yeahs  and John Nolan (of Taking Back Sunday fame) all putting their own spin on the folky synthpop classic.
This latest version – featuring Stephen Brodsky (of Cave In, Mutoid Man and Old Man Gloom) on vocals, Sergio Vega (of Deftones and Quicksand) on bass, Adam Dutkiewicz (of Killswitch Engage) on drums, Tanner Wayne (of In Flames) and Ben Chisholm (of Chelsea Wolfe) on guitars – trades the original's glittering keys, spacey synth warbles and soft drums for crunchy, overdriven guitars and thrashing percussion.
DEE SNIDER on his new single "I Gotta Rock (Again)" :
"'I Gotta Rock (Again)'  is the starting gun for this album and the driving motivation behind me returning to the studio to record 'Leave A Scar'. At the end of 2019, I had felt my recording and live performing was over, but I didn't announce it to the world. I mentally had decided I was done. But the state of things in 2020 had other plans for me. Between COVID and the political state around the globe, I found myself yearning (yes, I yearn) to get back in the studio. In the immortal words of Ice Cube, 'I got somethin' to say!'"
 Wrestling superstar Chris Jericho  on his new single "Sane"  :
"'Sane'  is the perfect first single for Fozzy  to unleash on the world, as it's heavy, hooky, catchy and RIFF-TASTIC!! I can't think of a better way to remind everybody of the feeling you get when you hear a great rock 'n' roll tune, one that makes u wanna put the top down on your car and put your foot down on the gas....and 'Sane' is that tune!"
 Tomas Lindberg   from AT THE GATES  comments on his new single "The Paradox" :
"Humanity is the biggest paradox. We as humans always want justification for the big things: death, the meaning of life, etc. Our knowledge of being mortals drives us away from being human, hence the paradox. We invent defense mechanisms to protect us from the thought of death, religion, different –isms, etc.
"The first time our producer Jens Bogren  heard this song, he said, 'This is a monster!' It touches on some core parts of the AT THE GATES  sound, but builds further, on top of that, some classic NWOBHM/MERCYFUL FATE vibes thrown in for good measure. It is a death metal song, but has its progressive moments.
TOM DeLONGE  from ANGELS & AIRWAVES on his new single "Euphoria" :
"In a music world that seems to be absent guitars, angst and emotional authenticity, I felt it was important to lead with a song that mirrors the post-hardcore days of my youth, where the power of the music creates that feeling we once had as teenagers, where we wanted to break something and change the poisonous environment within our broken home."
He continues, "These emotions create us. This song shows the seductive nature of an intense love built with that baggage from our youth, from being born into an imperfect household." 
Finnish duo NETTA LAURENNE  and NOORA LOUHIMO  on his new proyect LAURENNE/LOUHIMO :
Laurenne says: "With this album, I wanted to capture the essence of classic heavy metal and hard rock and combine it with great melodies and lyrics that have value. It was clear from the beginning, having two strong voices on the album, that this album was going to be full of power, energy, attitude and emotion. I envisioned it lovingly kicking everyone's ass, my own included, and I think it does just that. It's pushing us to do better and evolve, yet having great empathy towards the struggles we all face as humans."
Adds Louhimo: "My inspiration was definitely the thought of empowering and the songs giving a feeling of strength and sensitivity. And us interpreting the songs from our hearts and souls with full force, leaving no question about how passionate we are as vocalists and artists."
This, is "Bitch Fire"  first single by LAURENNE/LOUHIMO
Nikki Sixx (MÖTLEY CRÜE), Rob Zombie, John 5 (ROB ZOMBIE, MARILYN MANSON)  and Tommy Clufetos (OZZY OSBOURNE, BLACK SABBATH, ROB ZOMBIE)  have joined forces in a new project called L.A. RATS.
The quartet came together expressly to record a cover of "I've Been Everywhere"  for the soundtrack to the upcoming movie "The Ice Road". "I've Been Everywhere"  is a song written by Australian country singer Geoff Mack in 1959, and made popular by Lucky Starr in 1962.
This, is "I've Been Everywhere" by L.A. RATS
Matthew Greywolf  from POWERWOLF  comments on his new single 'Beast Of Gévaudan' :
"We are more than proud to present 'Beast Of Gévaudan', the first song off our upcoming album, 'Call Of The Wild'. The story behind the song couldn't fit better into the world of POWERWOLF : It's about a mysterious beast that killed countless people in the south of France at the end of the 18th century. The beast was never caught and there have always been many legends surrounding the events, up to the interpretation of the clergy, who saw the beast as 'God's punishment' or even as a 'savior of mankind from the worldly and sinful existence.'"
LZZY HALE  on his collaboration for "Rebel"  with THE PICTUREBOOKS :
"This project came into my life at a time when I really needed it. The pandemic stole a huge part of my life and my identity. I was forced to look myself in the mirror and figure out who I am without that missing piece. I had to remind myself that no matter what is happening outside... the flame that burns inside of me is still alive. Writing these lyrics was like drawing a road map to guide myself back to who I am. No one can do it for me, no one can save me but myself. In order to do that, I have to start a revolution inside my soul, and be a rebel from the inside out. This song is my war cry."
"The instrumental music was so inspiring that by the third listen the melody naturally spilled out like
some alien hybrid of all my influences."
"I am so grateful to THE PICTUREBOOKS for bringing me into their world and giving me the freedom to express my personal journey of rediscovering myself. And I know that, in times like these, this song will bring the listener hope for the future and the confidence to survive whatever that future becomes."
DINO CAZARES  on his new song "Fuel Injected Suicide Machine"  by FEAR FACTORY :
"I can't wait for everyone to hear this high-octane ripping song. It's based on a character called the Nightrider from one of my all-time favorite movies, 'Mad Max'.
"Born with a steering wheel in his hand and lead in his foot, he is the Nightrider, the Fuel Injected Suicide Machine. Remember him when you look at the night sky."
LAURI YLöNEN  from THE RASMUS  states about his new single "Bones" :
"It's about bad karma. Whatever you leave behind in life you'll find in front of you one day.
This song presents a slightly different sound but still has the typical dark layer of THE RASMUS."
Legendary Peavy Wagner  on his collaboration for the single "Scape The Silence"  by BRAINSTORM :
"A outrageously great song with a stunning video. It's an honour for me  to be part of that album.
Such an excellent track and awesome piece of music!"
MIKE HRANICA  from THE DEVIL WEARS PRADA  on his new single "Nightfall" :
"Sonically, I think 'Nightfall' is a celebration of what the band did for a long while. I remember that it's the first song I completed vocally and I know that it's straightforward — very much straightforward. Lyrically, an atmosphere is created concerning the attack rather than the anatomic details of the undead themselves.
It's a thumper with no introduction to kick off the EP."
 Pär Sundström  from SABATON  on his version of "Defence Of Moscow" :
"May 9 is celebrated as V-Day in Russia, the day to commemorate the victory over the Nazis in WW2. This year we participate in the memory of this event by releasing a song dedicated to the brave men who fought
in the battle of Moscow.
"This track was originally written in Russian by our friend Radio Tapok. It's a very strong song and we thought it made sense that SABATON should give it a try to make a honorable cover of this song.
"We love to surprise everyone, and this is a great surprise."
DAN AUERBACH  from THE BLACK KEYS on his new single "Going Down South"  :
"That was one of R.L. Burnside's hits! We strayed a little from the original on our version with the falsetto and percussion, but we liked how it sounded in that moment. It's become one of my favorites on the album."
From the upcoming album "God Is Partying". This, is "I'm in Heaven"  by ANDREW W.K.
RISE AGAINST comments on his new single "The Numbers"
 "'The Numbers' has given our collective another opportunity not only to work with a band we've looked to for inspiration since their early records, but also a chance to create the kind of strong visual content that aims to inspire and educate.
"Beyond simply showcasing global protest movements, this video is to serve as a reminder that we are all living in a golden age of resistance and need to use our privileges to commit ourselves to wholeheartedly pulling the rope in the opposite direction. Or, to put it more bluntly, don't be like your parents' generation. Give a fuck and prove it."
 SHIRLEY MANSON  from GARBAGE  comments on the inspiration she took on a trip to Chile
for the new single "No Gods, No Masters":
"That was like a slap in the face," Manson  said, adding that the comment reminded her of efforts in the United States to take down monuments to the Confederacy.
"All these people, they have more value than a monument to slave traders, but they don't have more value in the consciousness of society, and I think it's devilish and obscene, and I want power to be dismantled, and a society re-imagined," she said. "So, this song is about re-imagining our society for the future, for our children, and not making the same mistakes over and over again and allowing greed to corrupt our thinking."
PETE LOEFFLER  from CHEVELLE  comments on his latest album NIRATIAS :
"I love the idea of the cosmos and I love Carl Sagan and Elon Musk and Neil deGrasse Tyson and all these people that look beyond and look to the future. Getting off this planet is part of that future if we can do it. It's funny when you started to delve into it how difficult that really is. How are you gonna deal with radiation out in a spaceship for nine months or longer than that? It's fascinating. It just made its way into the music."
This, is "Mars Simula" by CHEVELLE
Inspired by 1856 poem "Demain, dès l'aube"  by famous French writer Victor Hugo
This, is "Victor"  by CHARLOTTE WESSELS
COURTNEY LAPLANTE  from SPIRITBOX  on his new single "Circle With Me" :
 "This song was written in the studio as a last-minute addition, one of the many reasons we are so grateful to no longer be exclusively working remotely. It captures the spectrum of emotions I've been feeling lately about my music.
From the anxiety I feel about messing up to a confidence meant to protect me from self-doubt. Visually, we wanted to present the viewer with the image of us that we miss the most: us performing on stage, with nothing to hide behind: instruments, some lights, and beautiful camera movement."
GUS G  comments on his new single "Exosphere":
"When the pandemic hit in early 2020, all world touring plans for FIREWIND were canceled. I found myself stuck at home for a whole year and not knowing what the future will bring. I slowly started putting down new riffs and ideas on my computer and before I knew it, I already gathered enough material for a new album. With a new reality in front of me, I started developing the new solo project and this time I decided to let my guitar be the voice, instead of having a singer or special guests. This led me to creating a bunch of new instrumental songs. 'Exosphere' was one of the first ideas I put together. I went through many different versions and arrangements before I settled for the final one. The last addition to the song was incorporating some lower registered riffs, after I got my hands on a seven-string guitar for the first time last summer. The goal was to add some new elements to my music while maintaining my sound and style that I've been known for. I'm really happy with the end results and I hope you enjoy the new music.
Stay tuned for more to come in the near future!"