Click on the play button to listen live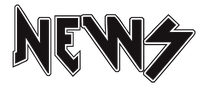 P.O.D. DROP MUSIC VIDEO FOR "AFRAID TO DIE"
FEAT. JINJER'S TATIANA SHMAYLUK
The band is back with another blast and is sharing the video for the equally eruptive single "Afraid To Die",
featuring Jinjer vocalist Tatiana Shmayluk. It's an anthemic song with an edge — and the collaboration was born of P.O.D. and Jinjer's Fall 2022 tour.
"'Afraid To Die' is a combination of cryptic and triumphant melodies," says Curiel. "It has storytelling rhymes and chugged verses, and a wide open, melodic yet semi-morbid, chorus. It's anthemic In every sense of the word."
He continues, "Our dear friend Tatiana Shmayluk offers her unique approach and we had incredible musical chemistry with her. This is P.O.D. hitting the human core of our existence and dealing with love, fear, integrity, and most of all, family and friends. It's ultimately an abundance of love and life."
ARCHITECTS RELEASE NEW SINGLE "SEEING RED"
ARCHITECTS have shared a brand-new single titled "Seeing Red", along with an accompanying video,
out now via Epitaph Records. In under four minutes, Dan Searle, Sam Carter, Alex Dean and Adam Christianson
pack in an album's worth of riffs and searing hooks
IRON MAIDEN'S BRUCE DICKINSON REVEALS THE MANDRAKE PROJECT ALBUM DETAILS & "AFTERGLOW OF RAGNAROK" MUSIC VIDEO 
Bruce Dickinson has unveiled the dramatic, action-packed video for "Afterglow Of Ragnarok", the first single to be taken from his upcoming solo album, The Mandrake Project. In front of a packed audience on the opening day of CCXP23, Brazil's huge Comic-Con event in Sao Paulo, he premiered the spectacular film and revealed further details about the album and forthcoming comic series in partnership with Z2, including releasing 2,000 CCXP-exclusive versions of the comic to the delight of the international comic community.
The Mandrake Project will be released on March 1 via BMG. Across ten inventive, expansive and absorbing tracks, Bruce Dickinson and his long-term co-writer and producer Roy Z, have created one of 2024's defining rock albums. Sonically heavy and rich in musical textures, it sees Bruce bring to life a musical vision long-in-the-making,
and features some of the finest vocal performances of his career.
ACE FREHLEY TO RELEASE 10,000 VOLTS ALBUM IN FEBRUARY
Ace Frehley, announces the release of his new studio album, 10,000 Volts, due out on February 23. Produced by Ace and Steve Brown (Trixter), the 11-track 10,000 Volts sees Ace perform electrifying, hard-hitting, riff-heavy rock'n' roll.
Written and produced by Ace and Steve Brown, the track kicks off with a surging riff, and Ace's swaggering delivery takes hold and never lets go. It culminates on the chantable chorus, "She hit me like 10,000 volts, when I saw her face," giving way to a fret-burning guitar solo.
The accompanying visual for the single was directed by Alex Kouvatsos from Black Wolf Imaging and shows Ace and his band performing the powerful, riff-heavy track live. 
MANESKIN NEW VIDEO FOR "OFF MY FACE"
The Italian rock group continues its global conquest and continues to have a string of successes. Måneskin unveiled the music video "OFF MY FACE", a previously unreleased track from the reissue of "Crush! ".
THE HALO EFFECT RELEASE VIDEO FOR NEW SINGLE "THE DEFIANT ONE"
While fans are eagerly waiting for the follow-up to their debut album, the band offer up a video for a track that has already become a staple in their live setlist for quite some time, "The Defiant One".
Mikael Stanne comments: "'The Defiant One' was recorded during the Days Of The Lost sessions and has been one of the songs we have played live last year. So in order to hold you over before we present you with what we have written and recorded for the next album here is 'The Defiant One'. The video was shot at Pustervik, Gothenburg during our sold out tour of Sweden and it captures us in our hometown among some of our closest friends. Enjoy!"
EMPPU SUHONEN RELEASE "ALPPILA" (Alpine)
" Alppila " is the latest single from the solo album Wake Up Helsinki Night, released in August.
Emppu says that the filming of the video forced her to overcome her fears. The singer literally fell into deep waters.
"I was a bit terrified at first, because I don't really know how to dive and suddenly panic strikes beneath the surface.
I tried scuba diving once, but had to stop because there was panic beneath the surface. I didn't really learn to swim until I was an adult. I do like to take a dip in the sea, but it's quite another thing to hold your breath for long periods of time, dive with your clothes on and try to perform at the same time".
LUTHARO ANNOUNCE NEW ALBUM "CHASING EUPHORIA"
AND SINGLE "TIME TO RISE"
Melodic metal outfit LUTHARO return with a cacophony of all that is metal! The Canadian metallers bring forth their signature mixture of traditional heavy, melodic death and thrash metal plus more on their latest effort,
»Chasing Euphoria,« the follow-up to their critically lauded debut full-length »Hiraeth.« Due out on March 15, 2024
via Atomic Fire Records.
The band have also shared a new digital single and video for 'Time To Rise.' The video is an intimate look inside behind the scenes at the band's practice and rehearsal. 
AMARANTHE RELEASE "OUTER DIMENSIONS" SINGLE AND MUSIC VIDEO
Swedish metal virtuosos, Amaranthe, break through the grey November clouds, ready to cure your seasonal blues
with their new uplifting track, "Outer Dimensions". Once again, high energy vibes paired with a catchy chorus and garnished with some heavy riffs and impressive growls, this song is determined to live up to its name and take the listener to higher spaces.
Amaranthe's Olof Mörck states: "Dimensions and galaxies collide in our latest single 'Outer Dimensions', which takes you on a journey from the introspective and obscure, all the way to a sparkling cosmos of an epic chorus! We feel that it showcases The Catalyst's diversity, all in one track while remaining very recognizably Amaranthe. The song is masterfully counterpointed by a tour de force of a video, directed by long-time collaborator Patric Ullaeus - so let us bring you the furthest reaches of your imagination with 'Outer Dimensions' soon!"