Click on the play button to listen live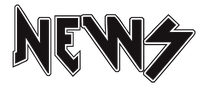 SMACKBOUND RELEASE NEW SINGLE "IMPERFECT DAY"
Finnish hard rock act SMACKBOUND just released their new single and music video for "Imperfect Day."
The Finnish five-piece, vocalist Netta Laurenne, guitarist Teemu Mäntysaari, drummer Rolf Pilve, keyboardist
Vili Itäpelto, and bassist Tuomas Yli–Jaskari, once again deliver a hooky, driving, metal-influenced slab of hard rock power on their second album, "Hostage," to be released via Frontiers Music Srl on April 21st, 2023.
KAMELOT SHARES "EVENTIDE" SINGLE FROM "THE AWAKENING" ALBUM
Modern symphonic metal icons KAMELOT have released "Eventide", the third single from their first full-length
album in five years, "The Awakening".
KAMELOT vocalist Tommy Karevik states: "'Eventide' is a celebration of lifelong companionship and unwavering loyalty. A calming voice from the side of the bed in the greatest time of need, sharing beautiful memories as one heart is slowing down and their time together is coming to an end."
AVENGED SEVENFOLD  ANNOUNCES "LIFE IS BUT A DREAM" ALBUM
AND "NOBODY" MUSIC VIDEO
AVENGED SEVENFOLD has released "Nobody", the band's first new single since 2016, band's
forthcoming eighth album, "Life Is But a Dream..." , which drops June 2. 
"Nobody", the band's first official music release since their 2016 album "The Stage", delivers nearly six minutes
of tension, groove, and dynamics. The song twists and turns beyond conventional songwriting and leans in on discomfort before letting go. The beautifully crafted stop-motion music video, which unfolds like a short film,
is a stunning and powerful journey exploring the dichotomy between life and death, love and war, and follows the main character through an existential crisis. Stop motion is a handmade labor of love,
often taking 90 minutes just to capture only two seconds of footage. 
ROBERT SMITH OF THE CURE REMIXES "PRETTY BOY"
BY NOEL GALLAGHER'S HFB
Robert Smith, legendary frontman of The Cure, has once again lent his remixing skills to another artist's work.
This time, Smith has taken on "Pretty Boy," the lead single from Noel Gallagher's High Flying Birds' upcoming album, Council Skies.
In an interview about the remix, Smith expressed his excitement at being asked to work on the song,
calling it "gorgeous" and saying he had "a lot of fun slowing it down and spacing it out." 
FIT FOR AN AUTOPSY NEW SONG "HELLIONS"
Deathcore crew Fit for an Autopsy have dropped a new track, 'Hellions', off their upcoming three-way split EP 
Thy Art Is Murder and Malevolence. The Aggression Sessions is out on April 7th.
Band comments: " Hellions was a fun look back at some of our more brutal and fast paced roots more akin to our earlier material. This year marks the 10 year anniversary of Hellbound, the record which we all collectively feel really started things in motion for the band. It was a blast to channel the energy and excitement we had at that time back into our music in 2023. It's only natural for bands to evolve and expand their sound over time, but we never forgot where we came from, so this one is for those who were here from day one.
Working with friends and peers and avoiding the pitfalls of competitiveness has always been the most rewarding part of being in a band, so as always thank you for the support and opportunity to have this platform to do cool shit.
See you all on the road!"
DEPECHE MODE NEW SONG "MY COSMOS IS MINE"
On the heels of the pulsing synth-pop first single, "Ghosts Again," "My Cosmos Is Mine" is darker,
slower, and more foreboding than its predecessor and kicks off the band's first album without late keyboardist
Andy "Fletch" Fletcher on a somber note.
YES, ANNOUNCES NEW ALBUM "MIRROR IN THE SKY",
AND FIRST SINGLE "CUT FROM THE STARS"
Progressive rock legends YES, who are Steve Howe, Geoff Downes, Jon Davison, Billy Sherwood and Jay Schellen, will release their new studio album, "Mirror To The Sky", on May 19.
"This is a very important album for the band," says Steve Howe, YES's longest-serving member, master guitarist, and producer of "Mirror To The Sky". "We kept the continuity in the approach we established on [2021's] 'The Quest',
but we haven't repeated ourselves. That was the main thing. As YES did in the '70s from one album to another,
we're growing and moving forward. In later years, YES often got going but then didn't do the next thing.
This album is demonstrative of us growing and building again." For YES, that "next thing" is a collection of high-energy, intricate, lush and layered new studio songs for an album which adds to the band's much-heralded legacy,
while charting a path to exciting future times ahead. 
POWERWOLF RELEASE "NO PRAYER AT MIDNIGHT"
SINGLE AND MUSIC VIDEO
Following the overwhelming success of their sold-out debut concerts in North America this past weekend, POWERWOLF returns with the impressive new studio track, "No Prayer At Midnight". The new single is one of six brand new studio tracks on the upcoming special album, Interludium, which will be released on Good Friday.
The premier quality, cinematic official music video impresses once again with striking imagery and provides the perfect backdrop for "No Prayer At Midnight". In a gloomy, sacral atmosphere, high priest Attila Dorn watches over his flock before sin awakens at midnight. 
CRADLE OF FILTH SHARES NEW SONG "SHE IS A FIRE". 
As fans anxiously await the studio follow up to CRADLE OF FILTH's highly-acclaimed 2021 full-length album "Existence Is Futile", the extreme metal legends led by iconic frontman Dani Filth have unleashed a thirst-quencher of epic proportions — their first live album to be released in over 20 years, "Trouble And Their Double Lives",
set for release on April 28, 2023 via Napalm Records.
Filth says about the track: "This track and the other original track on this album, 'Demon Prince Regent', were both written after the recording of 'Existence Is Futile' and present a perfect, but not necessarily related, bridge between our Nuclear Blast days and the forthcoming album on Napalm Records. It was always intended to be a double album,
so we just thought, 'f**k it! Let's cram some original material on there as well! The absolute worst of both worlds!
The song itself is about the epitome of burning passion; the dark inspiration of love and the creature that has ignited it." 
ENFORCED RELEASE NEW MUSIC VIDEO FOR "HANGED BY MY HAND"
The new music video, for the track Hanged By My Head, is taken from the Virginia-based crossover thrash metal band's upcoming new album, War Remains, which is scheduled to be released in April this year.
Speaking about the new single, vocalist Knox Colby says, "the song is about living in a world governed by the ignorant, the incompetent and the ineffective; shrugging off or poorly trying to mask how inept they truly are (The Norfolk-Southern train derailment in Ohio is a perfect example). The song seethes with no way forward, as the world around you burns in acid fire; you'd rather die with your dignity than having some bastard suit step over you like a piece of garbage, only remembering you as 'collateral damage' and not the human being you once were.
They don't care about you. Look out for yourself. Behind a poison smile, decline in denial."
AD INFINITUM UNLEASH "FROM THE ASHES" SINGLE AND MUSIC VIDEO
Rising modern symphonic metal stars, Ad Infinitum, entices its audience with their latest single, "From The Ashes". The track marks the next offering, cut from their upcoming third album, Chapter III - Downfall,
set to be released on March 31.
Ad Infinitum on "From The Ashes": "As the release of our third album Chapter III - Downfall approaches, we are proud to reveal a more progressive creation, together with a video that symbolizes the rebirth of the phoenix, rising again from the ashes. This video definitely warms up the room by a few degrees. Don't try this at home, kids!".  
METALLICA; SHARES MUSIC VIDEO FOR NEW SONG
"IF DARKNESS HAD A SON" 
"If Darkness Had A Son" is taken from METALLICA's 12th studio album, "72 Seasons", which will be released April 14.
As for the inspiration for the "72 Seasons" album title, Hetfield said:
"'72 Seasons' came out of a book I was reading about childhood, basically, and sorting out childhood as an adult.
And 72 seasons is basically the first 18 years of your life. How do you evolve and grow and mature and develop your own ideas and identity of self after those first 72 seasons? Some things are more difficult than others — you know, some things you can't unsee and they're with you for the rest of your life, and other things you're able to rewind the tape and make a new tape in your life. So that's the real interesting part for me, is how you're able to address
those situations as an adult and mature."
He continued: "There's been a lot of darkness in my life and in our career and things that have happened with us, but always having a sense of hope, always having the light that is in that darkness… Without darkness, there is no light, and being able to focus a little more on the light in life instead of all of the… how it used to be and how horrible it is...
There's a lot of good things going on in life — focusing on that instead, and it helps to balance out my life.
And there's no one meaning to it — everyone has some sense of hope or light in their life, and, obviously, music is mine. And the song specifically talks about gathering of people at a concert and [being] able to see the joy and the life and the love that comes out of music and the family and the kinship in that, and just a sense of uplifting." 
EVERYTHING BUT THE GIRL, SHARE NEW SONG "CAUTION TO THE WIND"
The second single from the duo's comeback album, Fuse.
"Lyrically, 'Caution to the Wind' is a simple song about arrival and seizing the moment, so with the music we tried to capture the feeling of a perpetual point in time," vocalist Tracey Thorn said in a press release.
Ben Watt added: "I let the words quickly collapse and loop inside the production. The drums emerge and repeat, and everything then starts to unfold in cycles of anticipation and release.
I guess it's just classic nightclub tension and euphoria." 
BURNING WITCHES, ANNOUNCE NEW ALBUM "THE DARK TOWER"
Swiss/Dutch all-female heavy metal outfit BURNING WITCHES will release its fifth studio album,
"The Dark Tower", on May 5.
BURNING WITCHES comments: "Wow, that was quick, right? Album No. 5 is already done and we are back with the brand-new single 'The Dark Tower'. The title track of the new record will fit perfectly into our set list with its relentless beat, the truly epic riffs and the striking but melodic vocals! 
"The theme of Elizabeth Bathory and her infamous 'blood countess' reputation was a fantastic inspiration for a breathtaking video clip. We all could relate to the story and its creepy saga and knew from the beginning it would be a new highlight in the WITCHES history!
"Last but not least, we want to thank the fans that supported us here and played the extras,
in this very emotional and creepy little ride! Enjoy the clip!"
NEW MUSIC VIDEO OF INSOMNIUM's "GODFORSAKEN,"
FEATURING JOHANNA KURKELA
Huge day for Insomnium and their fans, as their highly anticipated album Anno 1696 finally released today.
To celebrate the occasion and promote the hell out of a damn fine record, the band released
a music video for the song "Godforsaken."
Guitarist Markus Vanhala said the Finnish melodic death metal outfit teamed up with singer Johanna Kurkela in order to add another layer to the overall track, which the band hopes will help transport listeners back to a time
where witch trials ravaged Northern Europe. 
NIGHTWISH's FLOOR JANSEN, RELEASES NEW SOLO SINGLE "DAYDREAM"
Floor Jansen, lead singer of the symphonic metal band NIGHTWISH, has released a new solo single, "Daydream".
The track is taken from Floor's debut solo album "Paragon", which will arrive on March 24.
Floor says: "I am thrilled to finally release my latest single 'Daydream'! This song is very personal to me, as it was written during the pandemic lockdown when I felt like I had lost track of myself. I poured all my emotions into this powerful rock ballad, and I can't wait for you to hear it."
GODSMACK, RELEASES MUSIC VIDEO FOR "SOUL ON FIRE" 
GODSMACK has shared the music video for the band's latest single "Soul On Fire". The clip, which was directed by GODSMACK frontman Sully Erna and was produced by RED13 Creative at Red13 Studios, is taken from GODSMACK's new album, "Lighting Up The Sky".
In a recent interview with Pablo of the Minneapolis, Minnesota radio station 93X, Erna spoke about the fact that "Lighting Up The Sky" will likely be GODSMACK's final collection of original material. He explained:
"It's the most important record, I think, we've ever written and recorded.
"I've never been that artist who says, 'Oh, this record is our newest record. It's our best work ever.' You can read any interview you want over my whole career, and you've never heard me say it," he continued. "I've always loved our records [and] I always knew there would be some good singles on it and hoped it did well, but I was never the guy that said, 'This is our best fucking work ever.' And I'm telling you right now this is our best fucking work ever. And it's because it's emotional, man. This is the last record we're ever gonna do. This is the last run around the mill for us. We put every single ounce of energy and emotion into this album. Especially for me, when I wrote a lot of these songs, it was about my life journey. That's really what the sequence of this album becomes about. Not that it was planned that way, but this really kind of mystical thing happened where I felt like the universe wrote this record."
THE YEAH YEAH YEAHS, SHARE NEW RETRO INSPIRED MUSIC VIDEO
FOR "BLACKTOP"
Indie legends the Yeah Yeah Yeahs have released a new video for their song 'Blacktop',
which appears on their latest album, Cool It Down.  
In a statement, vocalist Karen O shared: "'Blacktop' stuck out to me early on, the demo was very stripped down instrumentally and emotionally. It was a step towards what radical closeness feels like after a long separation.
Each record has one of these diamonds in the rough that just feels like flying to me."
SMACKBOUND, TO RELEASE HOSTAGE NEW ALBUM,
"CHANGE" FIRST SINGLE
Smackbound's new album, Hostage, on April 21. The Finnish five-piece, vocalist Netta Laurenne, guitarist Teemu Mäntysaari, drummer Rolf Pilve, keyboardist Vili Itäpelto, and bassist Tuomas Yli-Jaskari, once again deliver a hooky, driving, metal-influenced slab of hard rock power on their second album.
"We started writing the album in early 2021 and even recorded the drums for a couple of songs we had ready in the fall, but then stopped the process because a lot was going on in our lives. Given a deadline for getting the album done, most of it was written and recorded in September and October 2022 and I remember writing lyrics and singing lead vocals just days before mastering. And we mixed the album until the very last minute, with Vili [Itäpelto] and Tuomas [Yli-Jaskari] taking turns between working on the record and sleeping! It was a hell of a ride, but we were able to pull through and give birth to our beloved second child, Hostage," says vocalist Netta Laurenne. 
"AFTER THE STORM" NEW SINGLE BY DIANNE (Ex-XANDRIA)
"After the Storm" is DIANNE VAN GIERSBERGEN's  (ex-Xandria) long-awaited first solo single. Produced and co-written by Joost van den Broek (Powerwolf, Epica, Ayreon), featuring Isaac Delahaye (Epica).
On the 13th of September, exactly 5 years after her departure from Xandria, DIANNE announced her return into symphonic metal through the creation of her own solo album:
"Soulward Bound", of which "After the Storm" will be the first single.
WARKINGS, RELEASE MUSIC VIDEO FOR "HEART OF RAGE"
International power metal band Warkings have released a music video for the track 'Heart Of Rage'. Featuring footage filmed during the band's European tour with Powerwolf in November and December.
Warkings issued fourth full-length studio album Morgana on November 11th, 2022 through Napalm Records.
Female vocalist Secil Sen, under the name Morgana le Fay, appears on the following four tracks: 'Hellfire', 'Monsters', 'Heart Of Rage', and 'Immortal'. "A voice so dark and evil…a tale so twisted and mysterious.
We created epic songs to tell the story of the dark sorceress. Welcome to the hellfire…the burning world of
Morgana le Fay," Warkings commented. 
KAMELOT, UNVEILS NEW SINGLE "OPUS OF THE NIGHT (GHOST REQUIEM) 
Modern symphonic metal icons KAMELOT have released "Opus Of The Night (Ghost Requiem)", the second single from their first full-length album in five years, "The Awakening"
KAMELOT vocalist Tommy Karevik states: "The music of KAMELOT has always carried the message of hope, light and a feeling of resolution. This story is a prime example of that. 'Opus Of The Night' honors the traditional dark and melodic sound of the band while bringing some new and exciting elements to the table."
GORILLAZ, FT. ADELEYE OMATAYO, SHARE NEW SINGLE 'SILENT RUNNING'
The multimedia project's new album 'Cracker Island' is out on February 24th, and it features a plethora of collaborators. In amongst the household names, however, Gorillaz also hold true to their roots, and return to some long-time friends.
Adeleye Omotayo has worked on countless Gorillaz projects, and the vocalist has a magical quality to their work. Damon Albarn embraces his talents, saying Omotayo places him in "…that sort of mesmerising dreamlike state you get in when you're just following some train of thought."
ARCH ENEMY NEW MUSIC VIDEO FOR 'POISONED ARROW'
After releasing their latest record, "Deceivers", last year to critical acclaim, extreme metal masters ARCH ENEMY
have returned with a new video for the track "Poisoned Arrow"
ARCH ENEMY guitarist Michael Amott comments: "I almost can't believe we're releasing a seventh (!) video off our recent 'Deceivers' album. Yet here it is, 'Poisoned Arrow', a mid-tempo track drenched in melodic guitar work and a somewhat different vibe overall compared to the other singles we've had out."