Click on the play button to listen live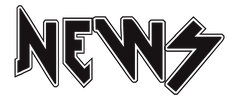 TONY IOMMI's new song "Scent Of Dark" is inspired by a recent friendship struck up during the pandemic between Iommi and Sergio Momo, acclaimed perfumer, and designer for Italian luxury perfume house Xerjoff, well known for its unique and individual creations and collaborations in the fragrance world. Sergio is also an accomplished guitarist, and his fine fretwork can be heard on "Scent Of Dark".
BATTLE BEAST guitarist Joona Björkroth comments on the single Eye Of The Storm
" is a song about the one thing that keeps your boat floating when the storms of the world try to sink you. It's an empowering and uplifting song that works best with the volume turned way up to 11, so make sure to crank it up!"
Swedish metallers AVATAR have shared a new track, "Construction Of Souls"
"This song will be to Christmas songs what 'Die Hard' is to Christmas movies," the band says. "It wasn't intended to be that, but ultimately, it makes a lot of sense. It's about us — meaning the robots taking over the great human project of our ancestors, building our way out of the planet on sandy soils, saturated with the withering bones of our ancestors."
"Melodic Instrumental Heavy Rock - that's the best way to describe the music of BLACK 7. Rooted in the 80s and 90s of rock and metal, a musical language of its own was developed."
The song "Lift up" is from the album Look inside which was released on October 8, 2021.
Powerful riffs, catchy melodies, orchestral arrangements and a lot of variety can be expected from BLACK 7 on this album. Influences like Satriani, Dream Theater but also Iron Maiden and Incubus can be found in the music.
BLACK 7 is a project by Lars Totzke, a guitarist from Hanover, Germany. After a break of several years, Lars processed a lot of influences with his first solo album. From hard rock, heavy metal to acoustic and atmospheric parts
with voices and unusual instruments.
"Taking Me Back," Jack White's first new solo music in nearly four years, combines that stripped down rock sound with the skronking guitar effects of the more experimental last album, "Boarding House Reach."
The single, produced by White at Third Man Studios in Nashville, features him on all vocals and instruments. Additionally, the hard rocking "Taking Me Back" arrives paired with a genuinely
gentler version aptly titled "Taking Me Back (Gently)." 
Jinjer have dropped the action-packed music video for their single Disclosure,
taken from their highly-acclaimed latest album, Wallflowers.
The video sees the band – including ex-guitarist Dmitriy Oksen – seek revenge on a power-crazy, intimidating police officer while providing an electric, rage-fuelled performance of the track.
In a joint statement, the group comment: "The track Disclosure and the video itself is a very important video for Jinjer. Not only is it one of our favourite tracks on the new album as well as live, our ex-guitarist Dmitriy Oksen stars in the video and was great to work with him again, even if it's in a different capacity now."
Kid Rock has released a defiant new single, "Don't Tell Me How To Live", in which he rants against "woke" culture
and the mainstream media at a time when "every opinion has a millennial offended."
The first new music from the Michigan-bred rap-rocker since 2017, which was recorded with the Canadian hard rockers MONSTER TRUCK and plays off that band's 2015 song of the same title, was accompanied by an official music video which features Kid Rock wearing a shirt that says "social media sucks."
"I'm the last of a few still screaming 'Fuck you,'" he raps in the song.
Foo Fighters have released a new video for their Medicine at Midnight song "Love Dies Young."
The clip was written and directed by Dave Grohl and stars Jason Sudeikis as a coach hyping up an American swim team for a competition. The Foo Fighters' faces are superimposed on the swimmers' bodies. Watch it below.
While Pearl Jam is definitely on the schedule for Eddie Vedder in 2022, the singer is also taking the time to release some new music as well. Vedder, who previously released the solo track "Long Way," is following it up  with the heartfelt ballad "The Haves" that can be heard below. It's the latest taste from his newly announced Earthling solo album.
KORN will release a new album, "Requiem", on February 4, 2022. The official music video for the disc's first single, "Start The Healing", is directed by Tim Saccenti.
In a statement, Saccenti explained of the visual, "Our idea for this video was to mutate that aspect of the DNA of KORN, of what makes them so inspiring, their mix of raw power and transportive aesthetics and human emotion. I wanted to take the viewer on an emotional journey, as the song does, a visceral, cathartic death and rebirth that will hopefully help transport the listener through whatever their personal struggles are. Collaborating with 3D artist Anthony Ciannamea, we tapped into KORN's mythology and explored their vast well of light and darkness to create a surreal,
liminal-pace body-horror nightmare."
This, is "Start The Healing" by KORN
Commenting on allying with the Sweden's e-sports representatives, Amaranthe stated
"We are proud to have some of the world's foremost E-sport competitors in Sweden, and to write a song for the Swedish World Cup team has been a ton of fun! Writing uplifting, energetic songs is a trademark Amaranthe feature, and 'PvP' is certainly no exception! Designed from the ground up to be a shot of adrenaline and endorphins in these progressively darker times, we hope that you will enjoy this one-off, and of course, we wish the Swedish World Cup team all the success they rightfully deserve!"
This, is "PVP" by AMARANTHE
Kelly Jones of STEREOPHONIC comments on his new album Oochya!
"There are a lot of different moments, but it's much more rock n' roll than [2019 album] 'Kind'. At our core, that's what we are. There are periods in your life when you look inside yourself more, and you can't fake those rock n' roll songs.
"I love the guitar riff songs, and I've got a phone full of ideas for them. But if you're not feeling it, there's no point writing lyrics for them. For the last few years, I hadn't really felt that vibe. This time, it really fitted."
This, is "Do Ya Feel My Love?" by STEREPHONICS
CODE ORANGE frontman Jami Morgan stated about their new single: "When they go right, we go left.
CODE ORANGE is out for blood and we are just gettin' started."
This, is "Out For Blood" by CODE ORANGE
THE HALO EFFECT, the new project featuring five former members of the Swedish metal band IN FLAMES 
Jesper Strömblad (guitar), Daniel Svensson (drums), Peter Iwers (bass), Niclas Engelin (guitar) and Mikael Stanne (vocals)  has released its debut single, "Shadowminds".
THE HALO EFFECT comments: "We are incredibly excited to unveil this new band with one of the first songs that we wrote together. We felt strongly that this was the right direction for the band. Finding identity, finding a drive and passion is what the song is about and also what this band is about. What drove us to do this in the first place, what obstacles have we overcome in order to fully commit to this lifestyle? It's about how easy it is to get lost
if you lose focus and passion for what you do.
"With the video we wanted to convey the emptiness of the city in the early stages of the pandemic and what we saw outside of the studio as we were writing but we also love the cool dystopic imagery
so we made the city look even more barren and destroyed. Enjoy!"
DEEP PURPLE bassist Roger Glover says
Everyone knows 'Oh Well' is a great song,  Steve [Morse, guitar] did the demo for that one. You never quite know where it's gonna go with Steve because he is very inventive. Right up until the point, with a couple of verses in,
it was pretty much the same as the original.
And then, all of a sudden, it took off like a rocket… in some other space."
This, is "Oh Well" by DEEP PURPLE
Michael Poulsen of VOLBEAT shares about his new album
I wrote the whole album in three months, I was in a good place and mood while at home, and had a captive audience of myself… There are a lot of VOLBEAT signatures in it. If you go back to the first record and compare it to where we are now, you can hear how the band has developed its style, while keeping the signature sound."
This, is "Becoming" by VOLBEAT
"It's classic SLIPKNOT," said Corey Taylor about the new track, which is inspired by a Netflix documentary he watched about the Yorkshire Ripper serial killer who murdered multiple women in the West Yorkshire, United Kingdom suburb Chapeltown in the late 1970s. "And it's frenetic. But lyrically, it's coming from a point of talking about the various manipulations that can happen when social media meets media itself. And the different ways that these manipulations can try to pull us in different directions, in the fact that we're all becoming addicts to it, which is very, very dangerous."
This, is "The Chapeltown Rag" by SLIPKNOT
Arjen Lucassen states on his proyect STAR ONE
"Ayreon is like the mothership for all my music, It contains all the different musical styles that I like to listen to and that I love to create. But I'm always looking for challenges and trying to create something new and original as well.
Working within a set of constraints forces you to do that, so sometimes I like to limit myself and focus on just one style. For example, with Star One I focus on the metal side of Ayreon. That means you won't hear the exuberantly liberal use of acoustic instruments that are so often featured on Ayreon albums, like violin, woodwinds,
cello, horns, dulcimer, mandolin, etc..
This, is "Lost Children Of The Universe" by STAR ONE
In a recent interview with the Morristown, New Jersey radio station 105.5 WDHA, BLACK LABEL SOCIETY leader
Zakk Wylde stated about the writing process for "Doom Crew Inc.":
"The way it always goes, it's always the music first and then a melody. And then I've gotta find out something I wanna sing about. So then I'll write the lyrics. That's usually always the way it goes. And then, when it's all done, then the solos go on it. The painting's all done, and the solo is the frame that goes on the thing. So you can sit back and look at the whole thing. That's the way we pretty much always do it.
This, is "End Of Days" by BLACK LABEL SOCIETY 
 California rockers PAPA ROACH have released a new single called "Dying To Believe". Jacoby Shaddix commented:
"We try to make music that means something to us, that moves us. When I look out into the world right now, a lot of people are divided. The beautiful thing about music is it's a unifier. I wanted to make a song that has some hope in it."
French progressive metallers GOJIRA have released a music video for the song "Sphinx". The clip was directed and animated by Zev Deans, who has previously helmed videos for BEHEMOTH, GHOST and more.
Johannes Eckerström of AVATAR shares about 'So Sang The Hollow'
"I think the song fits the season, 'So Sang The Hollow' lives between a dream and our waking nightmares. It's like a seance with ghosts of your own creation. It's one of those songs that was a very long time in the making, with the main guitar part having been kicked around since I entered the workforce."
He finishes with an important point, saying, "It also answers the question what SIMON AND GARFUNKEL
would've sounded like if they grew up listening to BLACK SABBATH."
FIT FOR AN AUTOPSY comments on their new single "Pandora"
"This is one of our favorite new songs, as it touches on a lot of our influences all at once and represents a collective of our musical tastes," the band shares about the track. "Lyrically, it describes the inevitable path to environmental destruction via the mechanisms we've permitted to control society. It's not an unfamiliar topic for FFAA, but an important one nonetheless and one we will continue to write about."
BATTLE BEAST on his new song "Master Of Illusion"
"The story of the song is about a self-centered, greedy, narrow-minded, and thoughtless character, who sows destruction all around without listening to or respecting others. The character may represent various things in the many arenas of power — for example, those of personal relationships, as well as in politics, and everywhere in between. Despite these heavy themes, there is playfulness in the composition, lyrics, and production, and the small twinkle in the corner of the eye that characterises BATTLE BEAST."