Click on the play button to listen live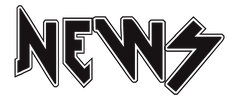 Pete Loeffler from CHEVELLE comments on his new single  "Self Destructor" :
"The song was actually written in 2019 so it's just strangely coincidental that it fits so well with 2020 being what it was. It's hard not to find that in everything now. I'll give you one thing though. It focuses on science deniers, and you guys can run with that. Go delve into the lyrics and check it out. It's aggressive and I've had to learn how to play it all over again this past year with Sam [Loeffler], so fingers crossed that we can do that live too."
 Charlie Rolfe from AS EVERYTHING UNFOLDS on his new single "Wallow" :
"Anger and sadness really drove this track lyrically, and there's a lot of frustration that's presented through the use of primarily harsh vocals. It's a song about betrayal, liars, and anyone who has ever done anything to you to make you deliberately feel worthless. There's a lot of energy that was released through this song,
and we invite you to do the same."
"'Niemi' was one of the first songs for this album. I had a feeling after 'Kulkija' that a next album could be the fastest and hardest ever in KORPIKLAANI's history. I looked at my Flying V, picked it up and here we are!"
It's Jonne Järvelä from KORPIKLAANI on his new single "Niemi"
Tom S. Englund from Swedish band EVERGREY on his new single "Eternal Nocturnal" :
"When you talk about the resurrection of the phoenix, that started a mind game for me, What if the bird doesn't want to be resurrected? What if it doesn't want to come back? That sort of resembles things in life; sometimes you get tired of standing up and being strong. I guess that was the main idea. It came to me after we'd finished writing the music."
DAVE GROHL on his new album "Medicine At Midnight":
"We're lucky in that everybody in the band has diverse influences and everybody loves different kinds of music, but I honestly think we're capable of doing almost anything," he said. "So if we put our minds to it, we can kind of chameleon and turn into a death metal band, or we could be like THE CARPENTERS. So we just have to come together and make the decision, like, 'All right, which way do we wanna go? Which way are we gonna turn the wheel?' And this time we did it to make this party record."
This, is "No Son Of Mine" new single by FOO FIGHTERS
CHINO MORENO talks about his alternative proyect CROSSES :
 "By listening to the music, you can tell that a lot of the influences come from the new-wave era. That was basically the scene that I came up on. I just happened to wind up in a metal band when I was 15."
"I think a lot of bands are influenced by religious symbolism and not even necessarily Christianity or Catholicism. Our band definitely doesn't follow any of those. It's more of the aesthetic. The art, the way it works. The initial name of the band was going to be HOLY GHOST. But at the last minute, another band came out with the name, so Shaun suggested CROSSES. It's a very strong symbol. Three crosses is great.
It's great to look at, there's three of us in the band."
This, is CROSSES covering "The Beginning Of The End" by CAUSE & EFFECT
Eugene Abdukhanov from JINJER on his new single "Home Back" :
"War... War never changes, and it never stops. No matter how much grief, misery, suffering and pain it brings, there will always be individuals who either reap the benefits or just relish in it's power. They will drive others to march and kill in the name of... for the sake of... if we look really closer... nothing.
"It is really hard for me to embrace how people in the 21st century still believe that there is something to fight for on any battlefield," he continues. "We all depend on a few major economies in the world and their national currencies. We all are at keystrokes length through the Internet. And yet... every day people are driven to kill their true brothers and sisters on our one and common land we call Earth. Then 2020 comes around and there is a glimmer of hope that this might be a turning point. That a common threat will unite all of us and this might be the beginning of
a new era... but no. They still march and kill.
"Every war is a tragedy and a crime against humanity in my opinion, No matter what your beliefs or ideologies are, nothing justifies taking homes, health and lives of innocent children who inevitably suffer in every military conflict. Imagine hundreds of thousands of refugee children around the globe screaming at once:
'I want my home back!'"
From the Hunter Gatherer album, this, is "A Secret Door" by AVATAR... 
whistled intro from Slipknot frontman Corey Taylor included
 Morten Veland from SIRENIA talks about his new album and single:
"'Riddles, Ruins & Revelations' is SIRENIA's tenth studio album. The album is very diverse, as a SIRENIA album should be. There's a lot of material that shows the band from a new side, and there is lots of material that is to be expected from the band musically. All in all the album will take the listeners through a journey that will cover both familiar and unexplored musical landscapes. We hope that you will enjoy the journey."
"This is our first single taken from the upcoming album. Musically I feel that this song really shows a modernized and new side of SIRENIA. I find the song very catchy, but heavy at the same time. Furthermore we have given the electronic elements a bigger role in this song. We hope you'll enjoy it!"
This, is ALICE COOPER on his new single "Our Love Will Change The World" :
"I think 'Our Love Will Change The World' is one of the oddest songs I've ever done, and it was one that came to us by somebody else, another Detroit writer. And it was so strange, because it was happy and what it was saying was anything but happy — it was simply a great juxtaposition. And I got it immediately and said, 'Okay, this is going to be great.' The music saying one thing and the lyrics saying something else, I love that song.
It is totally different from anything else on the album."
Christofer Johnsson comments on the video for the new single "Die Wellen Der Zeit" by THERION:
"Once again we worked with Carlos Toro and Abyss Production in Chile. Carlos has done the previous seven videos for us over the past 10 years, and this may be the best one yet! The lyrics deal with the ancient Germanic worship of Nerthus and you will get some interpretations of the good old times in the clip."
This, is ANNEKE VAN GIERSBERGEN on his new single "My Promise" :
"I wrote 'My Promise' when I was imagining what life would be like after divorce. The lyrics are about the determination to fight for love. The song begins acoustic with an Arabic, Spanish-Gypsy vibe that gradually reaches an epic ending. Ruud Peeters composed a hauntingly melancholic string arrangement. "
Anneke continues: "We recorded the video on Radio Royaal, one of my favorite restaurants in my hometown, Eindhoven, and it shows a couple of defining moments for a relationship, represented by different couples."
AMY LEE from EVANESCENCE talks about his new album "The Bitter Truth"
"It's hard to sum up. I don't think you can sum it up just by saying that. In our first sessions that we did when we were writing together, definitely we were focusing mostly on just raw and heavy, because we'd just come off of 'Synthesis' and we were just dying to kind of document our sound as a group — which is cool, and we needed it, and it is a part of this album for sure. But it's gonna be more of a full palette than just that.
"It's been a really long time since we've put out a full new album, so it's important that we kind of do it all and use all of the parts that make up our sound, if that makes sense.
"One of the things that we've been kind of aiming towards is taking the elements of what maybe are things that make up our sound and try to separate them and give each of them their own space. So some of the songs don't have strings and are fully rocking and heavy. And then some of the songs might be really in the electronic zone, and something might be more on the orchestral side. But overall, definitely coming off of what we just came off of,
it's gonna be a rock record."
This, is "Yeah Right" new single by EVANESCENCE
Dan Searle from THE ARCHITECTS on his new album For Those That Wish To Exist :
"This album was me looking at our inability to change to a way of life that would sustain the human race and save the planet, I wanted to look in the mirror and ask ourselves the question of what are we going to do, as opposed to trying to point the finger at politicians. Change has to start on a personal level. The world has developed a culture of wanting someone else to deal with it, when we need to take our own responsibility. It has to start there."
This, is "Black Lungs" new single by THE ARCHITECTS
Directed by Roman Coppola this, is the video for "The Adults Are Talking" by THE STROKES
Josh Kiszka from GRETA VAN FLEET comments about his new album "The Battle At Garden's Gate" :
"It's very dynamic, lyrically speaking. And that's the human experience. It's much more than pain or fear; it's also beauty. People need people, and love is important." Lyrically, "The Battle At Garden's Gate" muses about the influence of technology on modern life; the role conflict plays in the global sphere; the deceptive fulfillment of tangible riches; and philosophical questions about life, love and power.
This, is "Age of Machine" new song by GRETA VAN FLEET
This, is NETTA LAURENNE and his band SMACKBOUND live at Sonic Pump Studios, Helsinki. 
 It's Coen Janssen from EPICA:
"For the 'Omega' release we rewrote 4 songs into acoustic versions. This is our way of relaxing after a period of working hard and intense on heavy music. Being able to wind down and see if the songs still 'work' without all the bombast feels like coming home. It also enables us to explore other musical styles than metal and challenges us to be creative in a different way than we are used to. Enjoy our first single 'Abyss of Time' as if it was played in an Irish Pub while enjoying a nice pint with all your friends!!"