Click on the play button to listen live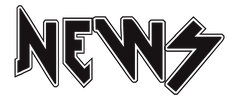 This, is Sharon Den Adel  speaking on WITHIN TEMPTATION's new single:
"'The Purge' revolves around self-reflection and a search for redemption, No one gets through life without scars or without inflicting them on others and there will always be moments in your life you start questioning your choices.
You start realizing you've made mistakes, causing harm to not only others but also to yourself. To confess, to acknowledge and to accept these mistakes, can be a very painful process 
however, unescapable when the burden becomes too heavy."
Jeremy McKinnon from A DAY TO REMEMBER  on his new album YOU ARE WELCOME :
"It's finally here — almost! To all our fans around the world, we want to say, 'Thank you!' You've waited patiently, and we can't wait for you to hear this. There's a lot of detail in everything we do from the mixes to the artwork, because it all tells a story. So, we made sure each element was perfect. Every line happens for a reason. We took what we envision modern music to be and made a hybrid of who we were, who we are, and who we want to be. It took a lot of maneuvering to get it right, but we feel like we did. We're here now and very happy to present 'You're Welcome'."
This, is "Brick Wall" by A DAY TO REMEMBER
Taylor Momsen says: "'25' is an interesting song that came from a lot of different places, It was the first song we recorded for the record in early 2019. I had just turned 25 when we wrote it. In a way, it's an autobiography and hopefully shows that this album really ventures out into new territory with the music."
DAVE GROHL:  "It's hard to put the words 'dance' or 'funk' or 'disco' in the same sentence as the FOO FIGHTERS; it scares the shit out of me, But all of us grew up loving rock and roll records that you could like bounce around to, like THE CARS. Like, oh my God, we love THE CARS. Or David Bowie's 'Let's Dance'. Or POWER STATION. Or THE [ROLLING] STONES' 'Tattoo You' — things like that. We're, like, 'All right.
We've never really explored that territory before. Let's do it." 
This, is "Shame Shame" by the FOO FIGHTERS
 "We have done the only thing that was left of all the different angles to explore. We have decided to give the people what they kept asking for. 'Leviathan' is the first album that we have deliberately packed with THERION hit songs."
It's Christofer Johnsson from THERION on his new album LEVIATHAN
GHØSTKID on his new single "YØU & I" :
"'YØU & I' is probably the most personal track on the record and based on a true story. It's the story about a close person who is in a coma… It seems like you can't really do anything, but somehow you've got a connection and it really feels like you are facing all of this together. I strongly believe that being there and letting someone feel that he or she is not alone definitely has an impact. The video is a metaphoric walk through the "coma world". It's about finding a way out of it together, about support and about help. Sometimes this is all what we need to make it through tough times… to know that we're not alone."
SYSTEM OF A DOWN on releasing new music after 15 years
Shavo Odadjian: "We've been together as in, we've gone on tours together, played shows together, hung out together, gone to lunch, going to dinner. We're friends, you know what I mean? We're all friends. It's just, we haven't been in there creatively together. So when we got in there, at first tension was a little high because we didn't know how everyone was going to be, but about five minutes into it, we were talking, laughing's talking about the song, how it's going to be, how we're going to help and what this is going to do for our people. That's the number one thing was what this is going to do to work and help out, how it's going to help our people. Because I feel like it's kind of like a Trojan horse, you know, it's like we're walking in and the world's going to listen because
it's 15 years, we haven't done anything."
Serj Tankian added:  "It's about raising awareness about what's going on with the humanitarian catastrophe perpetrated by Azerbaijan and Turkey — and it's about trying to raise funds.
The band is donating all of its proceeds to Armenia Fund."
Swedish band AMARANTHE talks on his new song "Boom!"
"In a time when everyone seems to have an opinion about absolutely everything our very own motormouth, GG6, reserves his right to help himself to a small arsenal of explosives topped off with a ton or two of dynamite, and watch your opinion go 'BOOM!1'! Discussions on elections, pandemics and riots has led to increased polarization in today's society, but our Growl God simply prefers it all at 1000°F. A full-on onslaught of detuned metal with some of the fastest growls to grace today's scene, 'BOOM!1' acts as a sequel to 2018's 'GG6', and it raises the bar on every level — with a video presented in a Tarantino-esque style, sure to be just as entertaining as the song itself! So serve yourself a cold glass of Napalm, and watch your world go 'BOOM!1'!"
 Joseph Poole comments on covering INXS :
"Just in time for Halloween, we've been saving this track for something special, and what better way than with a music video for Halloween. The INXS cover of 'Devil Inside' was recorded during the 'Necrophaze' sessions with producer Michael Spreitzer.
"I have a great memory of this song as a kid in the late '80s. I actually witnessed this song scare a family member to the point that they screamed at the radio, TURN IT OFF!!"
ROB ZOMBIE talks about his new album :
"Well, this is definitely the most musical — meaning there are a lot of different changes, and it's very unorthodox how the structure is, you know? I have to be careful because I know people will take a little snippet of what I'm saying. So we'll go with a very heavy, hooky ROB ZOMBIE record."
This, is "The Triumph Of King Freak: A Crypt Of Preservation And Superstition"
first taste from ROB ZOMBIE'S new album 
This is, "Ramona" and "WYTTCH" two new songs taken from the upcoming album CYR
by THE SMASHING PUMPKINS
 It's CHINO MORENO from the DEFTONES :
"We're going to be releasing later in the year a reissue of ['White Pony'] and we're going to do sort of a split side of the record, a remixed version of it titled 'Black Stallion'. So we have a bunch of different people on it, some that actually inspired some of the writing of the record itself, the original album. So it's kind of come full circle."
This, is  "Knife Prty (purity ring remix)" and "Passenger (Mike Shinoda remix)" taken from
BLACK STALLION by the DEFTONES
It's Sam Carter from the ARCHITECTS :
"For a long time, I ran away from my emotions with everything that happened, Speaking to someone is so healthy, it's so good. I genuinely think everybody should do it. We live in a fucking crazy world, right? You feel like you're going crazy before something like this happens."
This, is "Animals" new single by the ARCHITECTS
Joel Birch from THE AMITY AFFLICTION comments about the new two singles
"Midnight Train" and "Don't Wade In The Water" :
"Midnight Train came about from Ahren [Stringer, vocals/bass] just singing 'midnight train' in amongst some other garbage when he did the scratch track for me to get an idea of how he wanted to sing the chorus.
"We wrote the entire song around those two words, which wasn't actually hard because there was some context to it. It follows an arc of my relationship with my wife, ending where we are today. We've known each other for 25 years and the song covers some key moments for both of us."
Don't Wade In The Water: "It's song about my mother and father and the role the church had in separating them, and then the role that the church and religion played in my later life. Obviously, it is a play on the old hymn sung by Ella Jenkins, which is a beautiful, beautiful song. I wanted to contrast that with my own personal experience,
which was disenfranchising to say the least.
"There is a conversation happening within the song between my mother and father which is tumultuous and emotional, with two opposing sides with two opposing ways of viewing the world, and I really feel like it was captured well with the music. Ultimately, it didn't make the cut, but I honestly like this song as much as all the songs
that made it to the record."
It's Jonathan Davis from KORN:
"I really like World Of Tanks Blitz. It's true to the era, there are a lot of great tanks in there, and you don't just jump in and start shooting. I think there is a connection between rock and video games because video games are
intense and rock 'n' roll music is intense.
It seems like they have always gone hand in hand."
Eugene Abdukhanov from JINJER:
"When we wrote 'The Prophecy' in 2019, little did we know that it would prophesize things to come in 2020 ... the entire screwed up, scary and confusing year all wrapped up in our brand new single. That being said — we are not only very excited for this new video, but to also announce that we will release videos for all tracks from our 'Macro' album. It's the very least we can do in these strange times!"
Mark Jansen from EPICA talks about his upcoming album OMEGA:
"Our strength is that we have many great songwriters in one band. We have managed to combine each other's strongest qualities and select the best songs. It was a fruitful period of spending time together to work as one team on those tracks. I think this has made the biggest difference compared to our previous albums. Still using the advantages of comfortably sending files by the Internet to each other but combining that with coming physically together again to work on all the tracks.
"I think I have listened to 'Omega' about 50 times already and still can't get enough of it!"
Simone Simons comments: "Finally we can show you the video for our newest single 'Abyss Of Time'!, we flew all the way to Poland to work with Grupa 13 for the first time.
"Shooting videos is one of my favorite parts of creating the visual side to our music. The costumes were insanely beautiful. It was so much fun and I hope that you like the video."
"This song was inspired by what three years of touring did by opening so many doorways. This is my truth, how I feel about all of our travels, but I know it echoes the experiences and changes of perspectives for Jake, Sam and Danny as well." Said Josh Kiszka about the new single "My Way, Soon" by GRETA VAN FLEET
It's Mike Hranica from THE DEVIL WEARS PRADA: "This just feels very make it, or break it for us, All bets are in on 'The Act'. We tried to make something outside of the norm for rock, metalcore, or heavy music. We often hear commentary that 'rock is dead' now; I don't think it has to be that way though. Look at the corners pop and hip-hop turn. Artists just need to reinvent themselves and make something creative and inventive again.
Reinvention is what we're driving towards."
This, is "The Thread" new single by THE DEVIL WEARS PRADA
This, is FLOOR JANSEN from NIGHTWISH:
"Freja has been listening to singing Let It Go from the Disney movie, Frozen, for months. For fun and also because I miss performing for you, I decided to cover Let It Go from Frozen for all of you! Let It Go has been stuck in my head for months, so now it's your turn. ;) We added a bit of a rock & metal sound to it and gave it a bit of our own twist!"
Written by DANNY ELFMAN for the 1993 TIM BURTON movie "The Nightmare Before Christmas"
This, is "This Is Halloween"  SIMONE SIMONS and OLIVER PALOTAI's version



YOU CAN ALSO PLAY  BOLLOCKS Rock & Metal Radio  IN