Click on the play button to listen live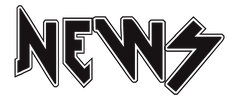 It's Sam Carter from the ARCHITECTS :
"For a long time, I ran away from my emotions with everything that happened, Speaking to someone is so healthy, it's so good. I genuinely think everybody should do it. We live in a fucking crazy world, right? You feel like you're going crazy before something like this happens."
This, is "Animals" new single by the ARCHITECTS
Joel Birch from THE AMITY AFFLICTION comments about the new two singles
"Midnight Train" and "Don't Wade In The Water" :
"Midnight Train came about from Ahren [Stringer, vocals/bass] just singing 'midnight train' in amongst some other garbage when he did the scratch track for me to get an idea of how he wanted to sing the chorus.
"We wrote the entire song around those two words, which wasn't actually hard because there was some context to it. It follows an arc of my relationship with my wife, ending where we are today. We've known each other for 25 years and the song covers some key moments for both of us."
Don't Wade In The Water: "It's song about my mother and father and the role the church had in separating them, and then the role that the church and religion played in my later life. Obviously, it is a play on the old hymn sung by Ella Jenkins, which is a beautiful, beautiful song. I wanted to contrast that with my own personal experience,
which was disenfranchising to say the least.
"There is a conversation happening within the song between my mother and father which is tumultuous and emotional, with two opposing sides with two opposing ways of viewing the world, and I really feel like it was captured well with the music. Ultimately, it didn't make the cut, but I honestly like this song as much as all the songs
that made it to the record."
It's Jonathan Davis from KORN:
"I really like World Of Tanks Blitz. It's true to the era, there are a lot of great tanks in there, and you don't just jump in and start shooting. I think there is a connection between rock and video games because video games are
intense and rock 'n' roll music is intense.
It seems like they have always gone hand in hand."
Eugene Abdukhanov from JINJER:
"When we wrote 'The Prophecy' in 2019, little did we know that it would prophesize things to come in 2020 ... the entire screwed up, scary and confusing year all wrapped up in our brand new single. That being said — we are not only very excited for this new video, but to also announce that we will release videos for all tracks from our 'Macro' album. It's the very least we can do in these strange times!"
Brandon Saller from ATREYU comments on the new album and single "Save Us" :
"I think a lot of people expected us to, for some reason, put out a pop album. It's probably the heaviest record we've made in a long time. And that's not to say there isn't some freakin' pop-style stuff on there — there is, just like every other ATREYU record. Every record we've done for the past decade-plus has had those moments, and that's always been the band we are. It's brutal, and it still feels like ATREYU to me.
Mark Jansen from EPICA talks about his upcoming album OMEGA:
"Our strength is that we have many great songwriters in one band. We have managed to combine each other's strongest qualities and select the best songs. It was a fruitful period of spending time together to work as one team on those tracks. I think this has made the biggest difference compared to our previous albums. Still using the advantages of comfortably sending files by the Internet to each other but combining that with coming physically together again to work on all the tracks.
"I think I have listened to 'Omega' about 50 times already and still can't get enough of it!"
Simone Simons comments: "Finally we can show you the video for our newest single 'Abyss Of Time'!, we flew all the way to Poland to work with Grupa 13 for the first time.
"Shooting videos is one of my favorite parts of creating the visual side to our music. The costumes were insanely beautiful. It was so much fun and I hope that you like the video."
 Angus Young talks about his new single "Shot In The Dark":
"It's got that great AC/DC vibe about it, great swagger, and a good AC/DC rock and roll chant. The title is a little bit cheeky because we all like a little nip [of alcohol] in the night or a few shots in the dark. I was very glad when the record company heard it [that] they felt it was a very strong song and should be the first one that people hear."
"This song was inspired by what three years of touring did by opening so many doorways. This is my truth, how I feel about all of our travels, but I know it echoes the experiences and changes of perspectives for Jake, Sam and Danny as well." Said Josh Kiszka about the new single "My Way, Soon" by GRETA VAN FLEET
It's Sebastian "Sushi" Biesler from Ghøstkid on his new single "Hollywood Undead":
"To be an artist, sometimes means to deal with a lot of problems. You have it all but maybe you'll have nothing in the end. In the video of the song, I've tried to symbolize this dilemma to the point. Some say Jesus was the first pop star and you can compare his story to many others. The story has no happy ending."
"As an artist nobody wants to see your weakness; they just want to be entertained! You need a strong mind to shape a world that constantly tries to shape you. Otherwise, you will lose the most important thing…you will lose yourself!"
It's Mike Hranica from THE DEVIL WEARS PRADA: "This just feels very make it, or break it for us, All bets are in on 'The Act'. We tried to make something outside of the norm for rock, metalcore, or heavy music. We often hear commentary that 'rock is dead' now; I don't think it has to be that way though. Look at the corners pop and hip-hop turn. Artists just need to reinvent themselves and make something creative and inventive again.
Reinvention is what we're driving towards."
This, is "The Thread" new single by THE DEVIL WEARS PRADA
"It was the moment something started to click - where we started playing over these much more rigid dance beats. The breakthrough was realizing there was real common ground between that and what we'd done before. It's that AC/DC aspect: where the quality that makes the riffs seem so cutting is because of that beat."
"Although on the surface we were stepping outside what we'd done before, it didn't feel at all unnatural. It felt like we were returning to music we'd loved from the very beginning: Daft Punk, Justice, things that were groove-oriented. It was all about the beat. It felt like familiar territory, but something we'd censored in ourselves."
Said Mike Kerr from ROYAL BLOOD about his new single "Trouble's Coming"
It's Netta Laurenne from SMACKBOUND on his new single "Run":
"The video was shot in Gran Canaria, during the massive "Calima" sandstorm in February 2020. It was so stormy that the sea literally washed away a lot of the lights and other equipment that the crew had to run after to salvage. Even I got swept away towards the depths of the roaring sea a couple of times and the crew considered tying a robe to my ankle to be able to reel me back to the shore. With eyes and lungs full of sand, you can witness a real struggle that fits the song's mood perfectly as the song tells about the agony of trying to get over someone who has already moved on with their lives while you still struggle to let them go emotionally." 
THE NIGHT FLIGHT ORCHESTRA:
"Some bands might get depressed when the summer ends and the darkness is coming closer. But not The Night Flight Orchestra. Instead, they choose to celebrate the summers that were, the summers that might never come again, but will always be with you, like a tiny sprinkle of Champagne to thaw your frost-bitten heart.
"'Impossible' is a song for all the hopeless romantics who are hanging on by a thread to the memories of their vivid summer escapades, hoping that it will help them survive the approaching winter."
It's CHINO MORENO from DEFTONES: "Ohms" was a more collaborative effort than "Gore", which saw guitarist Stephen Carpenter largely excluded from the production process. When you've made a lot of records with the same people, everybody has to be engaged, We've learned the hard way. A perfect example would be 'Gore', when Stef basically admitted, like, 'I didn't have much to do with this record.' And that was not because we didn't want him — my favorite ideas of DEFTONES songs are ones that he spearheads."
This, is "Genesis" second single from the album OHMS by DEFTONES
Swedish band AMARANTHE comments on his new singles "Archangel" and "Fearless" :
 "Fear — perhaps the most primal of instincts and most ancient of proclivities, and yet despite all our recent technological marvels our tendency towards fear only grows. Perhaps the great paradox of our time: we have never been materially safer, yet never more exposed to the ills and misfortunes of our truly global civilization. This very primal urge is the pure currency for both political and financial gain, and the more we give in to fear, the more it enslaves us. However, inside each and every one of us, there is also courage, conviction, and determination. It is in the face of adversity that we grow the strongest — so heed your inner warrior, pay homage to bravery
and transform into the 'Fearless' !"
"Fire and brimstone! Savor the sweet scent of sulfur as AMARANTHE delves deep into Miltonian lore with'Archangel'!
"An ancient tale of the fall of the angel Lucifer Morningstar was interpreted as a Greek tragedy in John Milton's seminal 'Paradise Lost', and it is from this perspective we tell a brief yet momentous story of greed, betrayal, and overblown pride — an all too familiar and contemporary theme."
This, is Arjen Lucassen from AYREON:  "Here is the 3rd groovy lyric video from the new Ayreon album, highlighting the lovely Simone Simons as the ruthless but deceptively cute Angel of Death in Transitus. I also love the priceless introduction by our favorite doctor, Tom Baker. And yes Ayreonauts… there are several clues to the intricate Ayreon mythology, besides the obvious reference in the title: THIS HUMAN EQUATION!"
It's BILLY CORGAN from THE SMASHING PUMPKINS speaking about his next album:
"This is the first album since the album that came out in 2000, 'Machina', where me, James and Jimmy worked on something for a very long time, It's got a greater conceptual base, and it's probably a wider swath of music. The last one was kind of like, 'Let's just jump in, record some stuff real fast, and let it be what it is,' ... so I'm excited about this, because we're kind of back in the lane of taking a risk, and trying to bring something new to the table, as opposed to just aping what we're known for."
"'Cyr' is dystopic folly, one soul against the world sort of stuff, set against a backdrop of shifting loyalties and sped up time. To me it stands as both hopeful and dismissive of what is and isn't possible with faith."
This, is new music by THE SMASHING PUMPKINS
"It was so much fun to make a record this way instead of getting everything done in-between touring, working with multiple producers in multiple countries," says The Struts' frontman Luke Spiller. "We were all just burning to capture that excitement as much as we possibly could, and at times it felt like the songs were literally just falling from the sky. It was undoubtedly a magical ten days for us – and I hope when people hear the album,
it gives them a taste of that magic too."
EICCA TOPPINEN speaks about the collaboration with LZZY HALE on his new song "Talk To Me":
"After years of friendship, we are more than happy to release a song together with the amazing Lzzy.
"This song has been in our minds for quite some time and we have been waiting for the right moment to finish it, and getting Lzzy to join us and perform in her outstanding way was a dream come true.
LZZY HALE from HALESTORM added: "APOCALYPTICA and I have for years talked about doing something together, and the last time I saw Eicca Toppinen, in Helsinki, Finland during the 2019 Tuska festival, he brought up the idea that we finally make that talk a reality.
"I'm so excited for the world to hear this song" 
This, is DEVIN TOWNSEND:
"Hello folks, here's another song from the Order Of Magnitude. Amidst the chaos of recent times, I look back at this concert as being another world in a lot of ways, and although the DVD has many different feels throughout the concert, this song, "War" is indicative of the beginning vibes of the show. The whole idea with this concert was to experiment with playing songs from my catalog that didn't rely on backing tracks or clicks, so assembling 10 people onstage to do this was no small feat.
From Helsinki Finland this, is OCEANHOARSE covering the legendary "Shot in The Dark " by OZZY OSBOURNE
"After all, we are the four terrible Ozzy Osbourne fans. And as tough and legendary as Black Sabbath is, it's specifically Ozzy's solo production that draws us the most. These songs should be played in training for personal pleasure anyway, and a couple of Ozzys have ended up on our stage from time to time," says guitarist Ben Varon.



YOU CAN ALSO PLAY  BOLLOCKS Rock & Metal Radio  IN