Click on the play button to listen live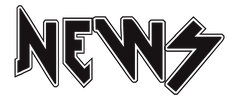 PAPA ROACH WITH NEW VIDEO FOR 'NO APOLOGIES'
PAPA ROACH has shared the music video for "No Apologies", picking up where the band's 2017 hit single "Help"
left off. The heartwarming release brings some familiar faces back to the screen to finish
a beautiful story of forgiveness and love .
PAPA ROACH singer Jacoby Shaddix commented: "Life is art. Art is life. We continue to blur the lines.
The video for 'No Apologies' is an expression of love and forgiveness. A story we can all learn and grow from.
I know I did. It's real. It's raw. It's life. A must-see."
METRIC UNVEIL '90s INSPIRED VIDEO FOR 'WHAT FEELS LIKE ETERNITY'
"We had been living in our imaginations for a long time, because we couldn't physically go anywhere else," guitarist and co-producer Jimmy Shaw said. "When you listen to the album from beginning to end, you start with this immediate feeling of tension building, of being stuck in a loop, and then there's this intense release that happens. You're swept off your feet into the title track 'Formentera' and it's like you escaped."
Haines continued: "We came to this realization that it wasn't even about an actual place anymore, it was about creating an escape for yourself in your mind because you're powerless over so many things."
BEHEMOTH SHARES VIDEO FOR NEW SINGLE 'OFF TO WAR!'
BEHEMOTH frontman and visionary Adam "Nergal" Darski comments: "Militant times bring militant music… we're increasing the tempo with our new single, 'Off To War!' — one of my personal favorites from the new record.
This song has a killer punk section, one of the greatest BEHEMOTH leads of all time, and a nice extreme metal twist at the end. A true sonic tornado in times of confrontation — enjoy it, legions!!"
SEETHER SHARES MUSIC VIDEO FOR 'WHAT WOULD YOU DO?'
SEETHER recently announced the deluxe edition of its acclaimed 2020 album, "Si Vis Pacem, Para Bellum".
"What Would You Do?", the emotionally cathartic, terror-stricken visual, directed by Jon Vulpine (THREE DAYS GRACE, SKILLET, BACKSTREET BOYS),takes the band's well-known predilection for
horror-film exhibitionism to a new level.
SOILWORK SHARES NEW SINGLE, 'NOUS SOMMES LA GUERRE'
The band comments: "'Nous Sommes La Guerre' evolved around a 'fight or flight' theme.
The song is about internal struggles and confronting your own worst sides. It's a cry for help in defeating the darkness inside of you and move towards a brighter path."
LAMB OF GOD RELEASES NEW SINGLE 'NEVERMORE'
The track is taken from the band's upcoming album, "Omens", which will be released on October 7.
"The world is crazy and keeps changing. 'Omens' is a reaction to the state of the world,"
explains vocalist D. Randall Blythe. "It's a very pissed-off record." He pauses for emphasis. "It is extremely pissed off."
"The inner workings of the band have never been better," explains guitarist Mark Morton. "You can hear it in 'Omens'. You can see it in our performances, and if you're around us for five minutes, you can feel it."
JINJER RELEASE 'CALL ME A SYMBOL'
The release of the new music video comes as JINJER are granted special exemption from the Ukrainian Ministry Of Culture to exit Ukraine (currently under invasion by Russia) to help their countrymen by performing across Europe in this year's summer festival run to raise funds through their donation campaign.
Bassist Eugene Abdukhanov says, "we are very honored to announce that together with the help of the Ukrainian Ministry Of Culture, we have successfully been granted permission to travel abroad as ambassadors of our country to raise funds and awareness about the war raging back home. This is a huge honor for us as a band and as citizens.
We will do our part to make sure that this war stops as soon as possible!
Come support, dance and scream your hearts out for Ukraine!"
SERJ TANKIAN RELEASES NEW SINGLE 'AMBER'
SYSTEM OF A DOWN singer Serj Tankian will release a new folk/classical song titled "Amber" sung in his native Armenian language, It was written with Tankian's cultural homeland in mind. The song title "Amber"
(pronounced "ahm-be'r") actually means "clouds" in Armenian and is allegorical in context.
Tankian explains: "'Amber' was written in 2017 after I visited Armenia along with my friends Atom and Arsinée Egoyan and Eric Nazarian as members of the coalition 'Justice For Armenia' to serve as election monitors for the Parliamentary elections. I was so distraught by the slick theft of the elections before ever reaching the ballot box that I wrote this song as a response. The lyrics, however, seem to be more poignant today when Armenians are divided politically and socially following the devastating attack on Nagorno-Karabagh and Armenia by Azerbaijan and Turkey in 2020 and the continuous fallout over negotiations with those two dictatorial regimes. 'Amber''s message is that of unity and harmony. Those are the only truly powerful weapons of the Armenian nation."
THE RASMUS ANNOUNCES 'RISE'
Singer Lauri Ylönen explains: "'Rise' is about the struggle of fighting a battle against depression. COVID was the last straw for many people having mental health issues, including myself. In the music video, the dancers playing 'the roots' represent the evil force and they are trying to pull us down underground. Still, the song has a positive message,
which is not to give up no matter how hard life treats you."
FALLING IN REVERSE SHARES VIDEO FOR 'VOICES IN MY HEAD'
For the track, frontman Ronnie Radke had a very specific and clear vision for the video, saying: "I wanted to capture what it's like battling with your past, present, and future perception of self, and the voices in everyone's
head hindering them from their full potential."
AMON AMARTH ANNOUNCES 'THE GREAT HEATHEN ARMY' ALBUM
AND SINGLE "GET IN THE RING"
Swedish melodic death metallers AMON AMARTH will release their twelfth studio album, "The Great Heathen Army", on August 5 via Metal Blade.
AMON AMARTH vocalist Johan Hegg comments: "Overall 'The Great Heathen Army' is one of the heavier albums we've made. There are some dark and heavy songs that are really powerful and in your face, but we obviously have some trademark melodic AMON AMARTH songs on there as well and a few surprises too. It's a really well-balanced album. It sounds great. Andy Sneap is awesome. It was great to be able to work with him again."
APOCALYPTICA RELEASES COVER OF MAURICE RAVEL's 'BOLERO'
After the arrival of their feature track "I'll Get Through It", Finnish cello rockers APOCALYPTICA have announced the first of three classical instrumental tracks to be released throughout this summer. "Bolero" is APOCALYPTICA's own version of Maurice Ravel's classic ballet piece and it therefore marks the band's first reinterpretation of a classical song since "Hall Of The Mountain King" in 2000. 
YEAH YEAH YEAHS CONFRONT THE CLIMATE CATASTROPHE ON FIRST SONG IN NINE YEARS
'SITTING OFF THE EDGE OF THE WORLD'
Yeah Yeah Yeahs are back with their first new song in nearly a decade, "Spitting Off the Edge of the World," the first offering from their upcoming album, Cool It Down, out Sept. 30 via Secretly Canadian.
In a statement, O said, "Spitting Off the Edge of the World" was inspired in part by the looming climate catastrophe.
"I see the younger generations staring down this threat, and they're standing on the edge of a precipice, confronting what's coming with anger and defiance," she said. "It's galvanizing, and there's hope there." 
STRATOVARIUS NEW STUDIO ALBUM, "SURVIVE", ON SEPTEMBER 23
Seven years after the release of its last album "Eternal", STRATOVARIUS once more proves its status as a flagship symphonic metal band and it returns with a big bang.
A blistering comeback from one of Finland's most seminal metal bands, "Survive" is full of dynamics and drama, feeding on a wide range of emotions along the way. But the core message that this triumphant sonic endeavor conveys is one of struggle, defiance, hope, and victory. Best exemplified by its profoundly rousing title track, "Survive" is the STRATOVARIUS spirit in exquisite musical form, with all the darkness and light that goes with it.
SWISS FOLK METAL BAND ELUVEITIE, HAVE SHARED
A NEW SINGLE AND VIDEO, "AIDUS"
The band's singer Chrigel Glanzmann says: "It's definitely one of the heaviest songs ELUVEITIE has ever done. It's the pure consequence of our spiritual path taken with 'Ategnatos': we are no longer a 'Celtic Metal' band. .. a Metal band that sings about Celtic history. We are Celts playing Metal music from the heart. We are no longer a 'Pagan Metal' band. We are Pagans making Metal music from the heart, shattering the principles of modern societies with our old message'.
RAMMSTEIN RELEASES NEW MUSIC VIDEO FOR 'DICKE TITTEN'
German industrial metallers RAMMSTEIN have released the official music video for their new single, "Dicke Titten". The track is taken from the band's latest album, "Zeit"
ARCH ENEMY RELEASES NEW SINGLE 'SUNSET OVER THE EMPIRE'
ARCH ENEMY's founder and chief songwriter Michael Amott comments: "Behold the 'Sunset Over The Empire',
the fourth single from our upcoming 'Deceivers' album! This is a faster song with some manic riffs and a relentless beat that I can envision becoming a 'hit in the pit'! Lyrically, it's sadly one of those that seems to ring more true with each and every passing day nowadays... 'Words turned to war, brother fighting brother, another false truce, as the people die...'. The accompanying video was shot in Poland with the Grupa13 team and doesn't follow the lyrics slavishly but has a great message and vibe in its own right. Oh, and I'm stoked that we're releasing 'Sunset Over The Empire'
as a limited-edition physical single on 7" vinyl!"
NIGHTWISH's FLOOR JANSEN RELEASES SECOND SOLO SINGLE, 'STORM'
Jansen went on to call "Fire" "a statement and "the kick-off of everything. And from there I'll keep releasing singles.
And the aim is to release the album in '23," she explained before clarifying that there are a lot of variables involved that could affect the timeline of the LP's arrival. "But the ambition is there. And everything is geared up to do that."