Click on the play button to listen live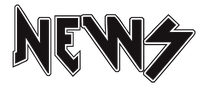 SLIPKNOT SHARES NEW SONG 'YEN'
SLIPKNOT has shared "Yen", a brand new single off the band's widely anticipated new album, "The End, So Far",
which will be released September 30.
follows the forthcoming album's lead single "The Dying Song (Time To Sing)" which arrived last month accompanied by an official music video directed by the band's own M. Shawn "Clown" Crahan.
The track garnered widespread acclaim upon its arrival with The Fader declaring "It absolutely rips,"
and Rolling Stone praising it as a "punishing new elegy."
AMON AMARTH SHARES MUSIC VIDEO FOR 'FIND A WAY OR MAKE ONE'
Swedish melodic death metallers AMON AMARTH have just released their twelfth studio album,
"The Great Heathen Army".
Elaborating on the video for "Find A Way Or Make One", the band says:
"We did this video with director Mikis Fontagnier in Frankfurt, Germany and with it we wanted to try something different. This video is our take on the style of some of our favorite videos we grew up on as kids, like TWISTED SISTER's
'We're Not Gonna Take It' and MOTÖRHEAD's 'Killed By Death'.
We had some fun making this and it was definitely fun to smash up a stale old business office!"
ALLEN/OLZON NEW SINGLE "ALL ALONE"
"All Alone" is the title of the second single from "Army Of Dreamers", the new album by ALLEN / OLZON, the project that unites vocalists Russell Allen (SYMPHONY X) and Anette Olzon (THE DARK ELEMENT, ex-NIGHTWISH) .
IN FLAMES DROPS NEW SONG 'THE GREAT DECEIVER'
Swedish metallers IN FLAMES have released a brand-new song titled "The Great Deceiver".
The track is taken from IN FLAMES' upcoming fourteenth studio album, tentatively due later in the year.
Anders Fridén states: "'The Great Deceiver' was born out of frustration, basically a reaction to false flags but since then it has grown to represent several meanings. There's a line that says 'Bend the truth to fit your opinion' and I feel that speaks a lot to the narrative happening online, between people, and nations etc. today. We are more a part now than ever before yet it's easier to communicate than in any other time in history."
HIGHLY SUSPECT WITH 2 NEW PUNK GROOVES + ELECTRO BEATS
Both "New California" and "Ice Cold" will be featured on Highly Suspect's The Midnight Demon Club album,
due Sept. 9. Stevens says of the album, "Life comes at you fast. We are constantly reminded of this, and perhaps no greater occurrence will spark the imagination more than the death of a loved one. In my experience, it's during these moments of processing great loss that the mind is completely focused on 'what if's' as we try and escape what is.
The Midnight Demon Club is about becoming the best version of yourself after tragedy, so it's a second chance on life with a happier mindset. The Midnight Demon Club is all about having fun and keeping it moving.
Because as we all know, this life is way too short."
LAMB OF GOD HAVE UNLEASHED NEW SINGLE "OMENS"
Lamb of God vocalist Randy Blythe differentiated in a statement between real omens — or just ominous events —
and the choices we make for ourselves, imbuing the track with what could be taken as a personal exhortation
on how to view the world.
Illuminating the meaning of the song, Blythe says, "I think a lot of the messes human beings find ourselves in could be very easily prevented simply by paying attention to obvious repeating patterns, both in our personal lives and in a broader sociohistorical context."
He adds, "What some call 'omens' are really just manifestations of the fact that there is nothing new under the sun.
It's foolish to ignore this, but we all do it."
BUSH ANNOUNCES 'THE ART OF SURVIVAL' ALBUM, AND SINGLE
'MORE THAN MACHINES'
BUSH will release its ninth full-length album, "The Art Of Survival", on October 7 via BMG.
On the track, a grinding riff grates up against glitchy production as singer and guitarist Gavin Rossdale assures,
"Girls you in control, not the government." Between finger-snaps and guttural distortion, a soaring hook takes hold,
"We are more than machines."
"This is an action-packed song with three really big topics. Off the bat, I don't understand how anyone has the audacity to get involved or assume responsibility for women's bodies. I wanted to reference that because it's important to discuss. As much as the song is about the destruction of women's rights, it's about the destruction of the planet and the move for A.I. and a world of robots to replace us. It's a topic we've heard since the fifties. I'm not here to teach anything though; my job is medieval like a town crier. I come into town with my elixirs and sing about it,
so it hopefully goes out into the universe."
GHOST SHARES MAJESTIC MUSIC VIDEO FOR 'SPILLWAYS'
GHOST mastermind Tobias Forge told Metal Hammer magazine about "Spillways":
"This is an elegy for the darkness that most people have inside. When you have a dam, spillways are the run-offs
so the dam won't overflow. That darkness inside us needs to find its way out."
BEHEMOTH SHARES MUSIC VIDEO FOR NEW SINGLE 'THE DEATHLESS SUN'
Polish extreme metallers BEHEMOTH will release their 12th studio album, "Opvs Contra Natvram",
on September 16 via Nuclear Blast.
BEHEMOTH frontman Adam "Nergal" Darski comments:
"BEHEMOTH has been hating Christ in different ways since 1991, and we still manage to reinvent the wheel.
"We're very proud to present our latest offering to that cause, 'The Deathless Sun', from our upcoming new record.
This track showcases aspects that many BEHEMOTH fans love about our music, plenty of aggression and melody. That contrast is the reason we decided to release TWO amazing videos to accompany this single release. One is very shocking…so shocking that we had to create a whole new video to release alongside it! Choose carefully!
As always, I look forward to seeing your reaction, Legions. Enjoy the ride!"
CHARLOTTE WESSELS RELEASES NEW MUSIC VIDEO FOR 'HUMAN TO RUIN'
The new music video, for the track Human To Ruin, is taken from the former DELAIN singer's upcoming new solo album, Tales From Six Feet Under Vol II, which is scheduled to be released in October this year.
Speaking about the new song, Wessels says, "With Human To Ruin I wanted to make a song that has an old school symphonic feel to it, but at the same time doesn't get too polished or "pretty" to reflect the theme of the track.
The vocal processing on the choruses is inspired by 90's grunge and the instrumental middle part gives off something psychedelic, all in all it's quite eclectic.
Thematically, the words in Human To Ruin are the things you say to yourself when you feel undeserving of love, or when you feel like you want love just for selfish reasons. I felt compelled to indulge in this feeling without nuancing it, because when you exaggerate a feeling like that, or make it larger than life in a song, it allows you to shout out the frustration on the one hand but it also reminds you that it is probably not all THAT bad in reality."
SLIPKNOT ANNOUNCES 'THE END, SO FAR' ALBUM;
'THE DYING SONG (TIME TO SING)' VIDEO RELEASED
SLIPKNOT will release its new album, "The End, So Far", on September 30.
Corey Taylor told SiriusXM's "Trunk Nation With Eddie Trunk" about the musical direction of the new SLIPKNOT material: "It's really killer, man. It's darker than 'We Are Not Your Kind', but there's a ton of melody. I've been telling everybody that it's like a heavier version of 'Vol. 3[: (The Subliminal Verses)]'. It's got so many textures and layers.
The heavy stuff has attack but the melodic stuff you can just sink your teeth in; there's a lot of great melodies and hooks. I'm really, really excited for people to hear it."
OZZY OSBOURNE'S NEW SINGLE 'DEGRADATION RULES'
FEATURING TONY IOMMI
As for his renewed collaboration with Iommi, Ozzy said: "It was really great working with Tony. He's the riff master.
No one can touch him in that respect. I only wish we had these songs for BLACK SABBATH's '13' album."
HALESTORM RELEASES MUSIC VIDEO FOR 'WICKED WAYS'
HALESTORM's Lzzy Hale stated about the song and the video: "In this eerie confessional…. I'm confronting the darkness inside of me, but this isn't my first time... Thanks to the vision of Dustin Haney, who is also responsible for our 'Back From The Dead' video, I return to light that darkness that I will never betray."
LACUNA COIL RELEASES MUSIC VIDEO FOR NEW VERSION OF 'TIGHT ROPE'
Italian heavy rockers LACUNA COIL have released the official Trilathera-directed music video for a new version of their song "Tight Rope". The new version of the track will appear on "Comalies XX", a "deconstructed" and "transported" version of LACUNA COIL's third album, "Comalies", which will be made available on October 14.
"This is not a reboot or a spin-off or anything like that," says LACUNA COIL vocalist Cristina Scabbia.
"We just wanted to give these songs a 2022 dress and see how this guy or girl who was born 20 years ago would still look fucking slick in 2022."
ALTER BRIDGE SHARES 'PAWNS & KINGS'
Acclaimed rockers ALTER BRIDGE will release their seventh album, "Pawns & Kings", on October 14.
Tremonti stated about "Pawns & Kings": "We're very proud of it. Our producer is absolutely in love with the record.
I think if you're a fan of ALTER BRIDGE, you'll dig this record. We're very happy with it. There are some heavy riffs on there. And it's funny because some of the heaviest riffs on the record [ALTER BRIDGE frontman] Myles [Kennedy] brought to the table. Even my producer is, like, 'I can't tell who's bringing what to the table anymore. 'Cause back when the band started, you were the heavy guy and Myles was the moody guy — [he would bring in] the ballady things — and we'd mix them up. And now you never know.' I think when you work with somebody long enough,"
ARCH ENEMY RELEASES NEW SINGLE 'IN THE EYE OF THE STORM'
ARCH ENEMY's founder and chief songwriter Michael Amott comments: "'In The Eye Of The Storm'
is a song that was built around a hypnotizing riff and a groove that's just screaming out to be played live!
Shooting the video in Berlin, Germany with, for us, new director Mirko Witzki was a super cool experience,
and the result is nothing less than astonishing!"
MASTODON SHARES MUSIC VIDEO FOR 'MORE THAN I COULD CHEW'
Atlanta progressive metallers MASTODON have released a music video for the song "More Than I Could Chew".
The clip, which was directed by Zev Deans, who has previously helmed videos for BEHEMOTH, GHOST, GOJIRA and more, nods to classic psychedelic horror with its bright color palette and tense take on the story of the Garden Of Eden.
DISTURBED RELEASES MUSIC VIDEO FOR FIRST NEW SONG
IN FOUR YEARS, 'HEY YOU'
David Draiman stated about the track: "It's a wake-up call. We've become our own worst enemies. Civil discourse has become the exception instead of the norm. People have lost themselves in outrage addiction."
ARCHITECTS ANNOUNCE 'THE CLASSIC SYMPTOMS OF A BROKEN SPIRIT' ALBUM, AND 'TEAR GAS' SINGLE
Frontman Sam Carter : "This one feels more live, more exciting and more fun — it has that energy. We wanted it to be
a lot more industrial and electronic."
Layers of electronic and industrial elements infuse the album with a blast of energy that sets the cinematic moodscape for the 11-track ride. There is more than a passing nod to the band's post-rock influences as well as now-familiar fist-pumping anthems such as "When We Were Young" and  "Tear Gas".
SOILWORK  PRESENT 'DREAMS OF NOWHERE' SONG & VIDEO
Soilwork continue to promote their upcoming studio album Övergivenheten (out on August 19th) by releasing
"Dreams Of Nowhere" with an official music video.
Björn Strid comments: ""Dreams of Nowhere" serves up an atmosphere that reminds you of our roots in the Swedish mid 90's death metal scene, with soaring riffs that sends melancholic and beautiful chills down your spine, but still brings you to where the heart of the band lies in 2022.
Lyrics deal with the constant battle between reality and escapism."
STRATOVARIUS UNVEILS MUSIC VIDEO FOR NEW SINGLE "WORLD ON FIRE," FROM UPCOMING STUDIO ALBUM "SURVIVE"
Seven years after the release of its last album "Eternal", STRATOVARIUS once more proves its status as a flagship symphonic metal band and it returns with a big bang. The band dives deeper into current world issues, finding more drastic words and imagery with a forthcoming music video set in an apocalyptic environment that fully supports STRATOVARIUS ' larger-than-life sound. A blistering comeback from one of the genre's most seminal bands, "Survive" is full of dynamics and drama, feeding on a wide range of emotions along the way. But the core message that this triumphant endeavor conveys is one of struggle, defiance, hope, and victory.
"'World on Fire' is a powerful song with an important message," says Timo Kotipelto. "Our planet is suffering. And it is because of us. We are destroying our own home planet. Climate change is happening, and we need to do everything in our power to slow it down. We need to think about our kids and future generations." 
WITHIN TEMPTATION DROPS NEW SINGLE 'DON'T PRAY FOR ME'
WITHIN TEMPTATION has released a brand-new single, "Don't Pray For Me". It is the fourth single of the band's independent releases and will lead up to WITHIN TEMPTATION's next studio album.
Sharon Den Adel comments: "'Don't Pray For Me' strives against forcing beliefs and fears on to others and bears witness to being acceptive of everyone's own journey. It is an anthem about coming to terms with the fact that beliefs can be fluid, multiple or, frankly, different. The song is about allowing people to pursue their own destiny."
AMON AMARTH SHARES MUSIC VIDEO FOR 'THE GREAT HEATHEN ARMY'
Swedish melodic death metallers AMON AMARTH will release their twelfth studio album,
"The Great Heathen Army", on August 5.
AMON AMARTH comments: "The armada of 'The Great Heathen Army' is at sea on the way to raid, but before we land at distant shores on August 5th, we have a new single and video for you to feast on. This is the title track from the new album with a video we shot with the talented Pavel Trebukhin in Riga, Latvia. Who will you choose to fight with?
The Vikings or the Saxons? Choose well and the Gods will decide your fate."
FIVE FINGER DEATH PUNCH SHARES NEW SONG 'TIMES LIKE THESE'
"Times Like These", a brand new song from FIVE FINGER DEATH PUNCH.
The track is taken from the band's upcoming album, "AfterLife", which is due on August 19.
"'AfterLife' was hands down my favorite record to make," said FIVE FINGER DEATH PUNCH guitarist Zoltan Bathory. "It is our ninth album, so at this point we have legions of loyal fans and our signature sound is more than established. It became its own island, our ground zero we operate from and we can always come back to. So when we started this record, there was an excitement of impending musical adventures. We knew we could step away as far as we wanted to; there was a freedom of truly 'anything goes.' This resulted in an album that is way more diverse than our previous ones while it feels more unified, because there is a framework of overarching stories in Ivan's [Moody, vocals] lyrics and interconnecting musical motifs between songs. It was not planned as a concept album, but we were so hyper-focused on painting a complete picture, it somehow feels like one...
We are very proud of it and are just as impatient as the fans waiting for the release. Can't wait to share it."
THE HU STORM BACK WITH 'BLACK THUNDER' VIDEO
"'Black Thunder' is the crown jewel of our second album," says The Hu vocalist Gala.
"The music video is split into two parts and conveys the core values of men through visuals," he continues,
"Our producer Dashka chose a unique location in Mongolia to shoot the video, where we had a great time riding the horses in the vast grassland of our countryside. We hope that our pride in our culture shines through, as we aimed to bring viewers joy and a piece of our culture through this video."
"Our second album will include 'Black Thunder', along with many new songs. We can't wait for you to listen and enjoy it as much as we enjoyed recording it," adds Gala.
ROB ZOMBIE RELEASES MUSIC VIDEO FOR
'SHAKE YOUR ASS-SMOKE YOUR GRASS'
Regarding the "The Lunar Injection Kool Aid Eclipse Conspiracy" album title, Rob said: "I like to try to think of an album title that you've never heard before — even though it's probably one that you cannot remember. 'Cause nothing bothers me more than when I see the same title on multiple records. I'm, like, 'C'mon, man. There's a lot of words out there.' And I don't just string crazy stuff together, even though it sounds like it… I spend a long time on the title, and it changes constantly. When I first start the record, I don't know what anything is gonna be called, I don't know what it's gonna sound like. And then as the record starts forming, I start coming up with multiple titles, or ideas for titles. And then, by the time the record's done, I usually have what I think might be the title. And everyone's, like, 'What's the title? What's the title?' And I'm, like, 'Ehhh… I don't know yet,' even though I do know. And then I start messing around with the artwork, and then I'll change the title again, because I'm, like, 'Oh, now that doesn't look like that. It doesn't fit.' So, as random as it may all seem, I spent a lot of time trying to [find the right title for the record]. And hopefully, when you're done listening to the record, what may sound like nonsense before you hear the music, after you've heard all the music, you can think to yourself, 'Well, of course, the only thing this album could have been called is
'The Lunar Injection Kool Aid Eclipse Conspiracy'."
LIGHT THE TORCH SHARE "BECOME THE MARTYR" VIDEO
"Not all relationships end with friends going separate ways," vocalist Howard Jones said about the song's meaning. "Sometimes, peace can be found in taking all the blame."
AMARANTHE RELEASE NEW MUSIC VIDEO FOR "CRYSTALLINE"
Speaking about the new music video, the band shares, "Crystalline was a song born from pure emotions in the moment, and we felt that it truly deserved its own spotlight as a single together with a video. Shot at Rydzyna, a 17th century Château outside of Wrocław, Poland, long time collaborators Grupa13 once again worked their visual magic for the video. We hope you will love the result just as much as we do!"
THE WARNING ANNOUNCE NEW ALBUM AND SINGLE, "ERROR"
Monterrey Mexico hard rock sister trio The Warning have announced that they will release their highly anticipated full-length debut album, ERROR, on June 24th. In celebration of the announcement,
On the new album the band said, "ERROR is an album about how we perceive the world as a generation and how we experience things in this new age- Love, technology, social life, media, politics; losing our sense of humanity
and everything in between."
CRAZY TOWN MAKE A COMEBACK WITH AGGRESSIVE
NU-METAL ANTHEM 'LEECHES'
Crazy Town, the rap-rock act also known as Crazy Town X, have returned with the new Ray Garrison-produced single "Leeches." The aggro nu-metal song from the Shifty Shellshock-led group behind 2000's Red Hot Chili Peppers-sampling rock hit, "Butterfly," follows their "Butterfly 2021" remake with the rapper Ekoh.
Apart from that and a handful of other featured singles, "Leeches" is the first new Crazy Town material since their third album, 2015's The Brimstone Sluggers. Crazy Town will also return to the road this summer on the U.S.
"Nu Metal Madness Tour." The rap-metal trek includes the bands (hed)p.e., Adema and Flaw.